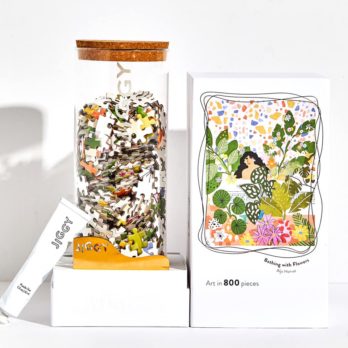 When the Covid-19 pandemic hit in March, 2020, Jiggy Jigsaw Puzzles saw a 550% increase in sales. For founder Kaylin Marcotte it was both a blessing and a curse. She had to reorder inventory that would run out in two months. She had to pivot and do it quickly.
Kaylin started the business in the fall of 2019 after working at a startup for four years. While there, she did jigsaw puzzles to unwind. Starting Jiggy was a natural transition. Jiggy Jigsaw Puzzles are designed by up and coming female artists.  Each puzzle comes in a reusable glass jar and includes a tube of puzzle glue, a straight-edge tool to spread the glue and a print of the art to follow. Once the puzzle is complete, you can frame it! The puzzles come in a reusable glass jar too.
She was happy with her choice to start Jiggy, but she had no idea the havoc that awaited her in the months to follow. What she did to compensate for her dwindling inventory is contact local artists. She gave them jigsaw puzzle blanks and had them create original artwork on them, then she turned around and auctioned them off. Some went for over $4000! Some of the  proceeds went to Covid relief efforts in the New York City area. There are still originals on the website, but you "enter to win" a puzzle by donating $10 for Covid relief efforts.
Now she's all restocked with dozens of designs. There are 450 piece and 800 piece puzzles. Most sell for $49 and she's even on Amazon now. She likely wants a Shark to help her scale the business. Will a Shark piece together a deal or will they be too puzzled?
My Take on Jiggy Jig Saw Puzzles
I absolutely hate jigsaw puzzles – never had the patience for them. I'm more of a "let's play cards" kind of guy instead of a puzzle guy. My mother LOVES them, so does my father-in-law. They each usually get one from us for Christmas. A Jiggy puzzle will be under their respective trees this year.
I do like Kaylin's mission. She's a carbon neutral business and she supports local charitable endeavors. The business also supports female artists. It gives them exposure they wouldn't otherwise get and, I imagine, probably puts a few bucks in their pockets. I wish her well and we'll be ordering next Christmas.
Will Sharks Get Jiggy With This?
I think Mr. Wonderful will bid on this. It fits with his "Something Wonderful" platform and he likes woman run businesses. These puzzles make great gifts and Mr. Wonderful is big into gifting items too. Expect a royalty structured deal from him.
Other Sharks could bid too. Lori will connect with the whole female artist thing and the other Sharks will like the philanthropy angle. The thing they'll all like is the puzzles are very attractive. I'd expect other bids from the four remaining Sharks.