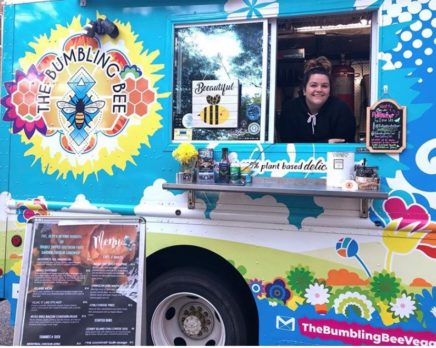 Mother/daughter team Cassandra and India Ayala hope for a feeding frenzy when they Pitch The Bumbling Bee, their vegan junk food restaurants and food trucks, in Shark Tank episode 1224. Cassandra started the business with her daughters India, Lexi and Olivia when the real estate market crashed. In 2011, they opened the Bumbling Bee as a food truck. They went vegan because Lexi and Olivia are vegans. India is a classically trained chef. Together they worked the truck at various op up locations in Virginia beach.
In September, 2019, they opened a brick and mortar restaurant called The Bumbling Bee Vegan Junk Food & Burger Bar in Virginia beach. In January, 2020 they opened a Boulder, CO  brick and mortar restaurant and food truck. Little did they know, the Covid-19 pandemic would shake up their business plans. They did manage to stay afloat offering take out service – something that isn't much of a stretch for food truck operators.
They ladies say they "deal weeds" and they have a quirky, irreverent list of menu items. Consider the Mother Clucker, a crispy Southern fried-chicken sandwich made with Gardein, a soy, wheat and pea based protein "chicken." They also serve ridiculously rich milkshakes, vegan burgers, chili, hot dogs and more. Rumor has it they also offer a rotating "secret menu," which you may want to ask about should you patronize one of their locations. They're likely looking for a Shark to help them fuel more expansion.
Company Information
Video

Posts about Bumbling Bee on Shark Tank Blog
The Bumbling Bee – Vegan Junk Food
Bumbling Bee Shark Tank Recap
Cassandra and India enter the Shark Tank seeking $150,000 for 10% of their business. The Sharks like the food samples and the sales numbers: $340,000 for the year (2020),. Ultimately, no Sharks invest becausee their products aren't proprietary and the duo leaves the Tank with no deal.
Bumbling Bee Shark Tank Update
The Shark Tank Blog constantly provides updates and follow-ups about entrepreneurs who have appeared on the Shark Tank TV show. Despite the setbacks wrought by the Covid-19 pandemic, the company's two locations remain open as do the accompanying food trucks. As of July, 2021, the business has $1 million in annual revenue.