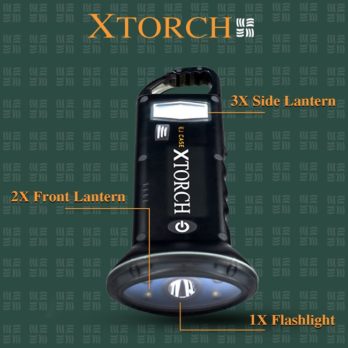 Keidy and Gene Palusky hope to light up the Tank with XTorch, their combination flashlight and phone charger, in Shark Tank episode 1224. The couple met in 2001 while they were both doing missionary work in the Dominican Republic. They were struck by the unreliable electric service the country had. They went on  to Equatorial Guinea where there was no electrical service at all in some places. People in developing countries also rely heavily on cell phones for communications and they need a reliable way to charge them.
Enter the XTorch, a solar charging flashlight, lantern and phone charger. Gene, who made his fortune flipping houses and operating rental properties, cashed in his real estate holdings and invested $300,000 into the business.  In 2018, they gave away about 1,500 torches, sold 1,200 at cost to nonprofits and sold about 200 torches for the full price of $60. In 2019, sales doubled and in 2020 sales went up 350%.
The XTorch is a rugged flashlight that withstands drops on hard surfaces without breaking. The lanterns will stay lit for 48 hours on a full charge. They can also charge with a regular electric outlet in about an hour. While they're great for developing countries, they're also handy for camping and power outages here in the USA. They sell for $49.95 on Amazon.
The company isn't profitable yet – something that doesn't bother the Paluskys. "I have all the money I'll ever need," Gene recently told a local news organization. Going forward, they want to donate 25% of their profits to developing nations. In order to continue their philanthropic endeavors, they'll need to be profitable. A Shark could definitely help with that.
Company Information
Video

Posts about XTorch on Shark Tank Blog
The X Torch – 3 in 1 Flashlight/Lantern
XTorch Shark Tank Recap
Keidy and Gene enter the Shark Tank seeking $150,000 for 10% of their company. They explain their product and give their pitch. Gene actually smashes a block of ice that has an XTorch frozen inside it. Gene needs to show Lori and the other Sharks how it works. It takes 22 hours to charge by solar and 1 hour by electrical outlet. They cost $18.50 to make and they sell for $55.95. The next production run, the manufacturing cost will drop to $14. They spend a minute or so telling their backstory. They are trying to say how their flashlight is different and the Sharks keep saying "it's a flashlight."
When they tell the Sharks they give lights to non profits, Kevin asks them if they're a business or a charity. Last year (2019), they sold $$53,000 so far in 2021.  They don't have any patents. Kevin thinks they should go direct to consumer for $29.95; he's out. Mark calls it a good product, but they haven't sold enough; he's out. Daniel doesn't like the price; he's out. Robert says he loves the product but he wants to buy the entire company. He offers $400,000. Gene counters with $1 million. Lori then goes out. When Robert goes to $500,000, Gene goes to $750,000 and Robert goes out.
XTorch Shark Tank Update
The Shark Tank Blog constantly provides updates and follow-ups about entrepreneurs who have appeared on the Shark Tank TV show. During the weekend following their initial appearance, the company sold out of all 1400 units they had in stock. They are selling on their website only on a pre-order basis. This appears on their website as of July, 2021:
DUE TO COVID-19, A WORLDWIDE SHORTAGE OF ELECTRONIC PARTS AND OUR APPEARANCE ON SHARK TANK, WE DON'T EXPECT TO HAVE THE XTORCH IN STOCK AGAIN IN UNTIL MID TO LATE OCTOBER AND WILL NOT BE ABLE TO FULFILL ORDERS UNTIL THAT TIME.
WE ARE VERY SORRY FOR THE DELAY, BUT WE ARE DOING OUR BEST.

YOU CAN STILL PRE ORDER AND WAIT IT OUT WITH US OR YOU CAN LEAVE YOUR EMAIL ADDRESS BELOW AND WE WILL CONTACT YOU ONCE WE HAVE THE XTORCH IN INVENTORY AGAIN.

WHEN YOU PRE ORDER, YOUR CREDIT CARD WILL BE CHARGED $39.95 EACH
(20% OFF OF THE ORIGINAL PRICE OF $49.95)
THE DISCOUNTED PRICE IS REFLECTED IN THE CART AUTOMATICALLY.

​IF YOU WANT A REFUND, AT ANY TIME, JUST EMAIL US AT [email protected] AND WE WILL CANCEL YOUR ORDER AND REFUND YOUR CREDIT CARD.
By August, 2022, they ironed out the supply chain issues and the products are readily available on their website and Amazon. Their most recent charitable endeavor was giving a bunch of the flashlights to the residents of Vallières, a landlocked, remote city located in the hills of northern Haiti that has no electricity. As of August, 2023, annual revenue is around $1.5 million.
I will update this page as more information becomes available.