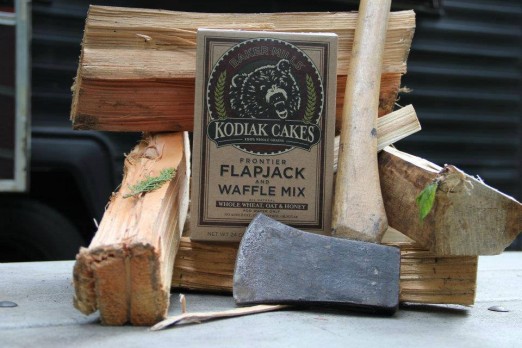 Cameron Smith and Joel Clark hope the Sharks flip over Kodiak Cakes, their line of hearty flapjack and waffle mixes, in episode 528. Kodiak Cakes uses Clark's grandfathers recipe for hearty, whole-wheat "hot cakes." The business got started in 1982 when Joel's mom put the dry ingredients in paper bags for sale. Joel, then 8 years old, toted them around the neighborhood and sold every bag! Fast forward 12 years to 1994 and Kodiak Cakes became a real business.
Kodiak Cakes has good distribution. They sell on Amazon and at selected Wal Mart stores. They're also in Safeway, Albertson's, The Fresh Market and other big name grocers. In June, they're rolling out their Power Cakes in Target stores nationwide.
They're likely looking to the Sharks for retail distribution introductions and cash for expansion.
Kodiak Cakes Shark Tank Recap
Cameron and Joel come into the Shark Tank in episode 522, looking for $500,000 in return for 10% of their business, Kodiak Cakes. They present the Sharks with samples of the Kodiak Cakes with their line of fruit flavored syrups.
They reveal that they've been able to get in to Target. Their initial order was for $260,000, and they project sales of over $1 million in Target in the upcoming year. They need a Shark investment to grow and move into new markets, as well as for the additional exposure and marketing expertise.
Mark Cuban wants to know why they don't simply borrow against their receivables, an option that wouldn't require the pair to give up equity.
They plan to "explode" the business- the pair plans to double their sales in the new year. The numbers don't add up for Kevin O'Leary. He believes that the big companies in the market will, when they feel threatened by Kodiak Cakes' growth, stamp on the intruding company.
Robert Herjavec wants to know why they need the money. Joel explains that they need the money for slotting fees – basically buying shelf space in retail stores. They plan to grow the business to $20 million in sales in four years, and sell it at that time for $30 million.
In spite of his needling, Kevin O'Leary makes the pair an offer: $500,000 in return for 50% of the business.  Robert Herjavec calls it a deal with the Devil. O'Leary says he "knows" the pair isn't going to take the offer, so he withdraws it and goes out.
Robert Herjavec puts an offer on the table: He'll give the pair $500,000 in exchange for 35%. They thank him but want to hear from Barbara before accepting. She makes a partial offer – $250,000 in return for 20%, but they'll have to convince a second Shark to invest the additional $250,000.
Lori Greiner says she has "to love what I get into," and she doesn't really like pancakes, so she's out. Mark Cuban feels the brand is facing some major obstacles, and drops out.
Kevin O'Leary is willing to go in with Barbara, but he wants 25% on his $250,000, making the total offer $500,000 for 50%. Robert repeats his offer – 35% for $500,000.
The pair turns down both offers, feeling the valuations are too low, and walk away with no Shark deal.
Kodiak Cakes Shark Tank Update
The Shark Tank Blog constantly provides updates and follow-ups about entrepreneurs who have appeared on the Shark Tank TV show. Once an episode has aired, we monitor the progress of the businesses featured, whether they receive funding or not and report on their progress.
Although they walked out of the Shark Tank deal-less, Cameron and Joel continue to enjoy enormous success with Kodiak Cakes. The brand has expanded into even more major retailers, and has become an "official food" for Weight Watchers, Diabetic Living, and Shape Magazine, important niche markets which are driving sales even further. While the company may not reach the $20 million mark the men estimated, the Shark Tank effect – the boost often enjoyed by entrepreneurs whose products appear on the Tank, has surely skyrocketed their popularity. Even without a Shark deal, this bear of a product is on the move.
In 2016, they had $16 million in sales. By 2020, they were a $200 million company in over 26,000 stores. In May, 2021, they were acquired by private equity group, L Catterton for an undisclosed amount. As of August, 2022, both Cameron and Joel still work for the company. Joel is the CEO and Cameron is the President.
Posts About Kodiak Cakes on Shark Tank Blog
Baker Mills Cameron Smith Interview – Kodiak Cakes
Kodiak Cakes Information
Video