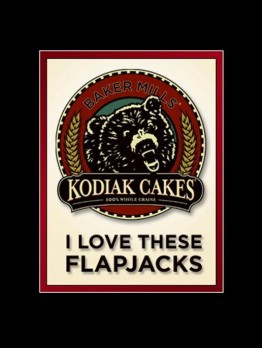 Cameron Smith and Joel Clark pitch Kodiak Cakes, a line of flapjacks and waffle mixes, in Shark Tank episode 528. Their whole grain flapjacks mix was what started it all. They're made from a recipe Joel's grandfather handed down. One day in 1982, then 8-year-old Joel canvassed the neighborhood with bags of the mix his mom prepared. He sold out!
Twelve years later, the family decided to make a business out of Kodiak Cakes. They named the company Baker Mills after Clark's grandmother and great grand mother's maiden names. The business was started by mom, but Joel is the president now.
They're doing a good job too. Kodiak Cakes have their flapjacks, waffles, muffins, and syrups in major grocery chains all over the country and on Amazon. They're even on the shelves at Wal Mart! Their biggest coup is, starting in June 2014, the "power cakes" flapjacks mix is hitting Target stores nationwide. It looks like Kodiak Cakes is already a winner.
My Take: I Like Flapjacks
To me, flapjacks and pancakes are pretty much the same thing, except I always assumed flapjacks were made from wheat and oat flour. That's what Kodiak Cakes are made of. Flapjacks like this tend to be much heartier than the standard pancake. We have pancakes, eggs and bacon every Sunday for breakfast and I make my pancakes from scratch (actually my 9-year-old does). We occasionally try a "fancy" mix, so we'd probably give Kodiak Cakes a try.
Do Sharks Eat Flapjacks?
Earlier in season five, Barbara made a deal with Southern Culture Artisan Foods, a business that has hand crafted pancake mixes. There were multiple offers made, so it's clear Sharks like pancakes! Will they like flapjacks? We can safely say Barbara won't bid since she has a competing product. Any of the other Sharks could make a bid if the valuation is right.
One thing that's tricky is this business is 20 years old. Their story is good and so is their business. It could be too big already to dilute with a Shark investment. One thing that sticks in my craw though is the timing of the Target launch in June. That has "Shark Tank Update" written all over it. I am thinking they do a deal for the flapjacks mix just because of that. Their business may be successful and it may be 20 years old, but Kodiak Cakes has yet to experience the Shark Tank Effect! I'm "IN!"