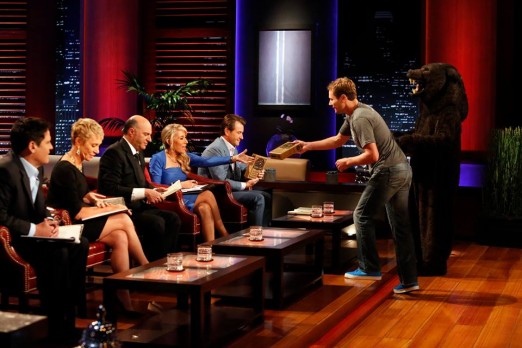 Baker Mills was originally "founded" in 1982 when then 8-year-old Joel Clark peddled pancake mix his mother made up from his grandpa's recipe around his neighborhood. In 1994, Joel's older brother John made a "real" business out of the old family recipe and Baker Mills began selling their Kodiak Cakes pancake mixes. Joel came into the business when John handed it over to him and ran it as a side business until about 4 years ago. That's when Cameron Smith came on board.
I caught up with Cameron before their segment aired to get a little of the back story on Baker Mills and Kodiak Cakes.
Baker Mills is Re-Born
Cameron was a new graduate of the University of Utah when he became involved with Baker Mills. "I was fresh out of school with a bachelor's degree in business administration when I saw a little ad. I answered it, and Joel hired me. At first, he had me calling on mom and pop type stores, trying to make sales."
"Joel was running it as a side business when he got an order from QFC (a Washington State grocery chain owned by Kroger). That gave him some focus to push forward with the business. He licensed the recipe to a co-packer, but brought everything back in-house when he realized the quality wasn't there. That's when I joined up."
"Prior to me coming aboard, the company was growing slowly. I couldn't stand calling on the small stores, I wanted to go big. Joel shared my entrepreneurial attitude, but he knew about all the barriers there are getting into big chains. I had no pre-conceived notions, so I had blinders on and went ahead with an 'us against the world' attitude."
Over the past four years, Baker Mills products made their way into over 7,000 stores nationwide! Kodiak Cakes and other Baker Mills products are in, according to Cameron, "about a third of all the Kroger Stores, a third of all Safeways, Costco, Wal Mart, and we're going into all Target stores in June. Last year, we did about $2.5 million in sales."
Bears in the Shark Tank
Kodiak Cakes uses a guy in a bear suit in their video marketing. You wouldn't think Bears and Sharks make a good match, but Cameron did. "I've been watching Shark Tank since the beginning, I'm a HUGE fan. Since we basically bootstrapped this business from the start, we've been talking about getting investors to help us from an inventory standpoint. I thought Shark Tank would be a great way to get investment capital, so we sent an application in last January (2013)."
"We were on our way to a food show when a producer called us and asked us to send in a video and fill out all the paperwork. We threw the video together in about an hour and a half and finished the paperwork on the plane to the food show in Orlando. A few weeks later, they invited us to tape in June (2013). We knew about the old option the producers could take to get a percentage of our sales had been removed, so it made our decision easy."
Cameron and Joel taped in June of 2013. He wouldn't say whether they got a deal or not, but Baker Mills is prepared for the Shark Tank Effect. They went to a dedicated server, alerted all their retail locations, and made sure they have enough inventory on hand to re-stock retailers and fulfill online sales from their website and Amazon. They only found out about their air date 8 days beforehand, so it was a good thing they've been "juicing up" their web site for a few months.
"We made it more functional and made finding retail locations easier with our 'store locator' feature."
I asked Cameron what he thinks makes him successful. "My mentality is if someone else can do it, then so can I. You just have to be able to push through any challenges."
I had one other question for Cameron, which he answers on The Hot Dog Truck.