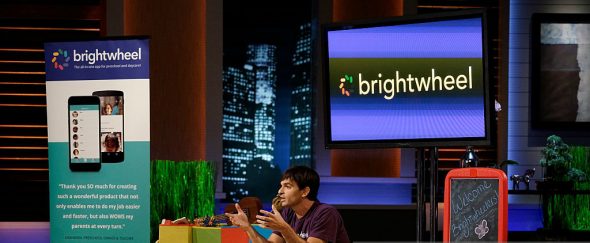 Dave Vasen hopes the Sharks share his vision for BrightWheel, his tool for preschools and daycares, in Shark Tank episode 724. Vasen got inspired to create Brightwheel when his daughter began attending daycare and he realized there was a need for a quality, interactive management tool that allows daycare centers to streamline administrative tasks while connecting with parents and families. He's started a pilot program with several day care centers and nursery schools testing a beta version of the platform and he's attracted investments from CrossLink Capital, Eniac Ventures, Golden Venture Partners, Red Swan Ventures, RRE Ventures, Sherpa Ventures, and "notable angels."
Nursery schools and daycare centers use Brightwheel to share photos, provide real-time reports to parents, send school notices, track attendance, and generate bills. Parents get paperless bills, live updates about their child's day, and allows them to invite others (grandparents etc) to the school community. Vasen says the platform streamlines school or daycare management and allows parents to connect with their child better by having a complete picture of how their day was spent. The best part is, all of this gets done from a smart phone.
Brightwheel's vision is to remain a free platform. They plan on monetizing it with premium management features for schools and daycares that they can choose to participate in or not. They want to build a platform that is simple, reliable, and fast. The team is made up of education and software pros with a long history of success in their respective fields. Vasen believes his platform is the future of school and daycare management and interaction and sees the platform as the future. Will a Shark share his vision?
BrightWheel Shark Tank Recap
Dave comes to the Sharks looking for an investment of $400,000 in return for 4% equity. The initial ask gets a groan from the Sharks, but they listen to his presentation as he shows off the features of the app.
He started with a pilot program in 2014, launching in 10 schools to hone and tweak the app, before launching publicly. Today, Brightwheel is in use across the country, in use in 2,500 schools.
In the seed round, Dave raised $2.2 million from investors. Daymond John wants to know what he wants from the Sharks. Dave explains that he wants to build the brand, and grow the company with the guidance a Shark can offer.
Kevin O'Leary is impressed. He makes an offer: $400,000 in exchange for 10% of the company. Dave is appreciative of the offer, but he's challenged by the percentage.
Daymond John mentions that he's not as large a presence in the space Brightwheel intends to grow into, so he goes out.
Chris Sacca cautions against Dave's promise to "never advertise" to parents on the app, explaining that parents represent a demographic who actually welcome well-targeted, relevant advertising.
Chris wants to make an offer, but he has "a problem paying more than anyone else" for his share. He wants his offer to be at the original $8.2 million valuation, so he's willing to give Dave the $400,000 in return for 4.85% of the company, less than half the percentage Kevin O'Leary required.
Dave asks if Chris would be willing to partner with another Shark to increase the value of the investment. Chris responds that he doesn't think that the other Sharks have much to offer. Mark Cuban takes offense, asking Chris if "you're really that clueless."
The ensuing bickering prompts Daymond to begin chanting "Shark fight! Shark fight! Shark fight!" Mark Cuban says that Chris Sacca's influence is limited to Silicon Valley.
Kevin O'Leary uses the opportunity to change his deal. He's willing to match Chris' offer of 4.85% in return for $400,000. It's clear, though, that Dave is holding out for the two-Shark deal.
Mark Cuban admits that Chris may bring "some value" to the deal, and is willing to join the deal, but if Chris is uninterested, he'll meet Dave's ask.
Dave counter offers, asking if the two bickering Sharks will consider a joint deal for higher equity.
Chris responds that he's willing to offer $600,000 in total, in return for a total of 6.67% equity, split between the two Sharks. Mark gives his nod, and Dave leaves the Tank with a double Shark deal.
BrightWheel Shark Tank Update
In spite of the spat in the Tank, Chris Sacca and Mark Cuban remain friends off-stage. In a later interview, Sacca mentioned that he joined the Tank at Mark's request, seizing the opportunity to "bust his balls on national television."
The Sharks' friendship has served Brightwheel well, launching the app in even more schools nationwide. The premium features will include tweaks to the billing features, customizable access for parents and others, and expanded access to technical support, as well as the ability to manage multiple locations. Brightwheel's future, with the help of Sharks Mark Cuban and Chris Sacca, looks bright.
They raised even more money after the show. Cuban and Sacca invested an additional $10 million into the business in 2017. In 2018, they raised another $21 million from Mark Zuckerburg's investment firm. In 2021, they raised $55 million from Addition, Emerson Collective, Next Play Ventures, Julia and Kevin Hartz and Daniel Shapero.
The business gets an on air update segment in season 9, episode 908. In the update, Dave says they've gone from 2500 schools using the app to over 25,000 globally. They also introduced a paid premium service that enables two way messaging in the app, let's parents sign in from their own phone and adds document management for schools. In the segment, Dave, Mark and Chris meet with The Learning Care Group, the largest for profit child care provider in the USA. The Learning Group had been testing the app and they do a three year, million dollar deal. Sacca says this could end up being the biggest Shark Tank deal ever. Chris may be right, as of January, 2023, this business is valued at over $600 million.
Posts About BrightWheel on Shark Tank Blog
BrightWheel Company Information
Video