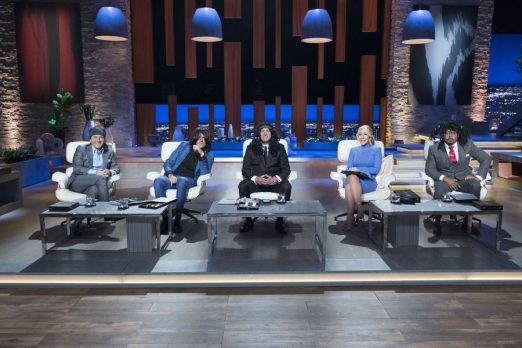 Episode 908 is the first of two Shark Tank episodes airing on January 14, 2018. Four new entrepreneurs come into the Tank seeking partnerships – and cash – from the wealthy Sharks. Lindsay Barto and Chris Healey (aka El Rubio  and El Moreno) seek a "mane" investment for the Longhairs, their line of hair products for men with long, flowing locks. Joe and Maranda Dowell tempt the Sharks with Joe's Gourmet Fish Fry, their delicious breading mix for frying fish and other meats. Michelle Winowich seeks help with her GOAT Pet Speaker, a small speaker that clips to a pet's collar and lets it "talk" back to you. Howie Busch pitches the Dude Robe, his re-engineered bathrobe for men that features soft towel lining and a sweatshirt exterior.
Which business gets a deal?
In tonight's update segment, a business Chris Sacca and Mark Cuban invested in back in season seven gets a look. The two billionaires invested $600,000 in BrightWheel for 6.67% equity. BrightWheel makes an app that is an interactive management tool for daycare centers to streamline administrative tasks while connecting with parents and families. When they invested two years ago, the company was still in a "pilot program" stage. Tonight, we'll see how far the business has gone.
There are 28 Shark Tank Episodes for Season 9. This season features more appearances by "guest Sharks," including billionaire Sir Richard Branson. The 200th episode also airs this season. Casting is currently closed, but it never hurts to get a head start on season ten! If you would like to appear on the show, check out our Auditions and Casting information.
Episode 908 – The Shark Investors and Entrepreneurs
The Shark Tank Episode 908 entrepreneurs will make their best pitch to the panel of five Shark investors who will use their own money if they choose to invest. The Shark Investors negotiate on the spot without any previous information, which differs from typical negotiations between venture capital investors and entrepreneurial start-ups.
Companies pitching the Shark Investors must go through a rigorous due diligence process before an on-air deal is completed. Shark Tank Blog follow ups help you keep track of the companies that end up successful and the ones that don't complete their deal.
Thank you for reading SharkTankBlog, the number one site for Entrepreneurs, Investors and Fans. Our content updates multiple times day, giving you the latest information on Episode 908, Season 9, and all other seasons and episodes.
Episode 908 Press Release
Shark Tank: Episode 908 (1/14)
AN ENTREPRENEUR GIVES A COMPLETELY NEW MEANING TO COMMUNICATING WITH PETS, AND ENTREPRENEURS PROMISE THAT LONG HAIR IS NO LONGER ONLY ACCEPTABLE FOR WOMEN, ON A NEW EPISODE OF ABC'S 'SHARK TANK,'  SUNDAY, JANUARY 14
"Episode 908" – Husband and wife entrepreneurs from Atlanta, Georgia, introduce the Sharks to their famous seafood breading mix business; an entrepreneur from Birmingham, Mississippi, provides pets and their owners a way to communicate with one another with her invention; a re-engineered bathrobe for today's man and for those men who wouldn't be caught dead in one is presented to the Sharks by an entrepreneur from Roslyn, New York; entrepreneurs from San Diego, California, inform the Sharks on what every man with long hair needs to know and have in their life, on "Shark Tank," SUNDAY, JAN. 14 (9:00-10:00 p.m. EST), on The ABC Television Network, streaming and on demand.
In a "Shark Tank" Update, entrepreneur Dave Vasen from San Francisco, California, updates his investors Mark Cuban and Chris Sacca on what's been happening with Brightwheel, a software solution for early education that makes life easier for both teachers and families.
The Sharks in this episode are Robert Herjavec, Mark Cuban, Lori Greiner, Daymond John and Kevin O'Leary.