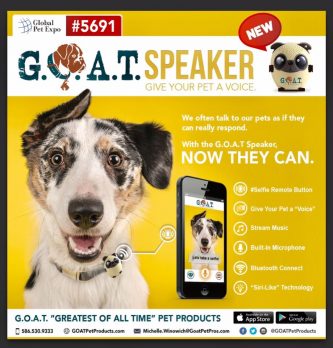 Michelle Winowich wants the Sharks to invest in her GOAT (Greatest of all time) pet speaker when she pitches the product in episode 908. The speaker is just one of the products Winowich sells on her GOAT Pet Products website she started to bring customers "the Greatest Of All time pet products for the best price!" The speaker is what she's pitching tonight, and it's a hit with pet lovers everywhere.
Each speaker (they have them for dogs, cats and birds) is a small, pet-shaped blue-tooth enables device. You can clip it to your dog's collar. With the accompanying app, you can stream soothing music to your pet. There's also a selfie feature for snapping doggy selfies and a dog (or cat) date organizing calendar in there too. The most popular (and funny) feature let pet owners upload a "voice" for their pet into the speaker. You can record as many responses in the "voice" as you want and the speaker will answer you when you ask it questions.
Each GOAT Pet Speaker costs $44.95. As of October 2017, they're available at every Petsmart in the USA and Canada. Did a Shark help with that?
Company Information
Video

Posts About GOAT Pet Speaker on Shark Tank Blog
Greatest of All-Time Pet Speaker
GOAT Pet Speaker Shark Tank Recap
Michelle enters the Tank with her dog wearing a Snow White costume. She's seeking $499,000 for 9%. She gives her pitch and even plays some music from the speaker around her dog's neck. When she's finished, she hands out samples. She's sold over 2 million units in the last six months. She was at a Pet Expo and Petsmart people saw her. They approached her and wanted exclusivity for six months – that's how she sold all those units.
They cost $5 to make – packaging included – and sell for $24.99. The Sharks express concern over repeat orders and the lack of sales data. Mark says he hates the pet industry and he's the first Shark to go out. Kevin quickly follows. Lori thinks it's too risky; she's out. Daymond says in order for things to work, he'd need an aggressive offer; he's out. Robert likes the speakers and says he'll make an aggressive offer: $499,000 for 33.3%. She counters with 20% but Robert won't budge. After some thought, she accepts.
GOAT Pet Speaker Shark Tank Update
The Shark Tank Blog constantly provides updates and follow-ups about entrepreneurs who have appeared on the Shark Tank TV show. The deal with Robert never closed. The products continue to sell on Amazon. She introduced some new items to her line. Now she carries organic dog shampoo and conditioner. She also sells GOAT Milk Dog Treats; a portion of the proceeds from these benefit Americans with disabilities! During the 2020 Covid-19 pandemic, the company started selling PPE and sanitizing wipes wholesale.
As of June, 2022, the business hasn't posted on social media for months and the website is down. The products are also "currently unavailable" on Amazon. Michelle still lists the  business as "open" on her LinkedIn page, but she's opened GOAT Consultants, a personal, product, personal development and global sourcing consultant firm. She closed the business in August, 2022.