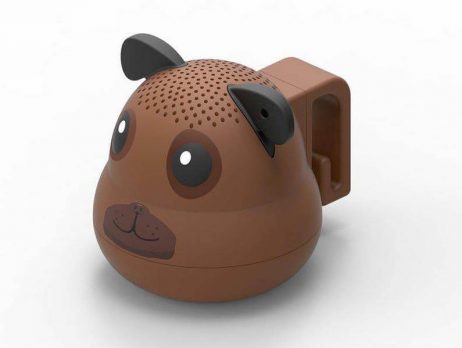 The Greatest of All Time (GOAT) Pet Speaker is one of many products in the GOAT Pet Products line. "Petrepreneur" Michelle Winowich initially started the company to give pet owners a place to buy quality pet products at good prices. While the business is primarily focussed on selling the pet speaker, GOAT also sells dog treats.
"Pet tech" is a hot niche in the $66 billion pet products market right now and Winowich capitalized on that trend last spring. In March, 2017, the GOAT Pet Speaker was called "one of  the coolest gadgets we've seen here," by a writer from PetGuide.com. After seeing the product, buyers at PetsMart put the product in all its stores. That was in October, 2017.
Clearly the speaker is a hit with retailers. It's a fun, quirky little gadget. It's a small speaker that clips on to a dog or cat's collar. You can play soothing music to your pet through a bluetooth connection, take pet selfies, even load your pet's calendar into the speaker.
The feature that has everyone buzzing is the pet speaker actually lets your dog or cat "talk" to you. Pet owners simply down load a "voice" for their pet with the ability to record a virtually unlimited amount of phrases. You then program the phrases to playback according to voice recognition enabled questions. For instance when you ask "how was your day," your pet can answer "it was great." The possibilities are endless and it's a lot of laughs.
Winowich hopes to laugh all the way to the bank when she tries to snag a Shark in episode 908. Her pet speaker is the primary business for her now and she wants a Shark to help her grow. Will a Shark want to collar this deal?
My Take on the GOAT Pet Speaker
I am not a customer for this product as I no longer have a dog. Before our dog passed, I had a special pet voice for her. I was always cracking up my kids with funny "conversations" with the dog. The GOAT Pet Speaker takes it to a whole new level. It almost turns your dog or cat into a furry ventriloquist dummy!
The music, selfie thing and scheduling capabilities are all cool, but the voice is what gets people buzzing. I would have had hours of fun with this when our dog was around. While I won't be buying one, I am in.
Do Sharks like this GOAT?
Pet products are hit or miss in the Tank, but I think this one is a hit. It's really more of a novelty than anything else, but I think the Sharks will like it. I don't think Mark gets involved – think "it's a product not a company." Likewise for Lori, she usually doesn't go for pet items.
Mr. Wonderful, who is making A LOT of offers in season nine, may bid. I think the two most likely Sharks to bid are Daymond and Robert. Robert almost always bids on dog stuff, but I think Daymond does this deal. The timing of the PetsMart release smells Sharky. Daymond has several other products in PetsMart and he does well with his pet portfolio. Look for Daymond to be the GOAT.