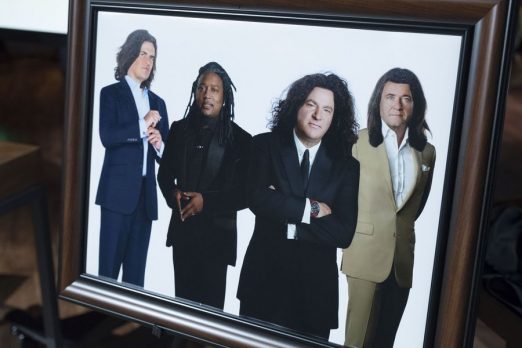 Lindsay "El Moreno" Barto and Chris "El Rubio" Healey are two long hairs who decided to make a business out of selling products to men with long hair. They're also responsible for the best Shark Tank press photo ever (see above). In order to get the guy sharks in the long-haired mind-set, they brought them wigs so they could feel the power of a lengthy mane.
In what promises to be a humorous pitch, the two men will extol the virtues of long hair for men. They don't like being told to get a haircut or that they look like a girl. They think long hair is "bad ass." Unfortunately, they were always shopping in the woman's hair care section for hair accessories, so they decided to make a business out of selling hair products to men with long hair.
As they say on their website, The Long Hairs exists to "advocate, educate, and celebrate men with 'epic flows' (and also to sell hair ties)." The guys, who also run a digital marketing agency, busted out all their creative and wacky tricks. A read through their site will make you laugh – long hair or not.
The Long Hairs sells "manly" hair ties, hair serum, and headbands for men. They likely want a Shark to help them solidify their brand. Will a Shark think their flows are epic enough to invest?
My Take on The Long Hairs
In my teens and early twenties, I had hair like Dee Snyder. I never put it up, but it was pretty long for a few years. Alas, now I am "follicly challenged," so I am not a customer. I totally get what they're trying to do though and they're doing it in a very clever, tongue-in-cheek way.
There aren't many places where men can buy hair ties, so they cornered the market – for now. Imitators will follow, but being first is always good. I'm not sure if this business is Shark worthy, but it sure will be a fun pitch. While I am not a customer, I would love one of those wigs.
Do Sharks Go Long and Invest?
This product is for men, but two of the Sharks on the panel tonight are bald. Mark and Robert aren't long hairs either. The only Shark with real long hair is Lori! While I think the Sharks will be amused, this business is too niche for the likes of Mark, Robert and Kevin.
Daymond is always a target shark when any fashion products company comes into the Tank, but I don't think he bids. Lori is the wild card. If she thinks she can sell their stuff, she'll bid. I don't think Lindsay and Chris get a deal, but if they do, Lori is their best hope.