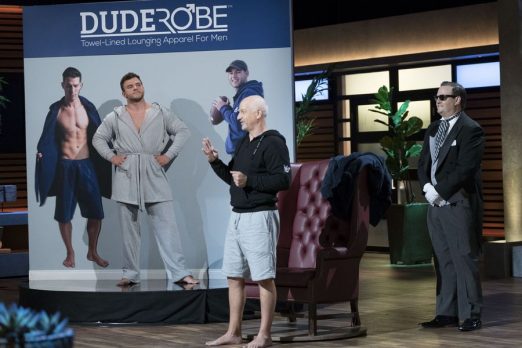 Howie Busch calls the Dude Robe and its associated accessories "towel-lined lounging apparel for men." That pretty much says it all. He set out to make a better bath robe in 2017 on Kickstarter and IndieGoGo and the dudes ate it up. The bathrobe is a utilitarian piece of "clothing" at best, but Busch made it cool.
Basically, it's a robe with a hood. It has sweatshirt material on the outside and towel material on the inside. He also sells hoodies, shorts and pants with the same materials. Busch claims you can wear his stuff anywhere, from the beach to the locker room to lounging around the house.
He recently re-designed his website. When episode 908 was first announced, his URL went to the IndieGoGo campaign. Now he has a clean, easy to use site to sell his wares. The Dude Robe costs $75, hoodies are $65, pants are $55 and shorts are $50. He likely wants a Shark to help him sell more robes! Will a Shark invest in this dude?
My Take on the Dude Robe
The first thing I thought when I saw this is I WANT ONE! I spend my days in a bathing suit or shorts and I often write by the pool. The Dude Robe is perfect for me. If I had one, I might never get dressed. While I'm not sure it's an investment for a Shark, it is cool.
The only thing I don't like is there's big lettering on the back that says "Dude Robe." At least the ones in the Kickstarter had that. I'm not crazy about the name – I HATE it when someone calls me "dude." Plastering the word on the back of this awesome apparel kind of ruins it for me. Otherwise, I'm in!
Will a Shark be a Dude?
I think Busch gets a deal. His website looks like he got a deal. I'm betting Cuban invests because he's so anti-fashion and this screams casual. It's one of those goofy but useful things he likes. I don't think Mr. Wonderful or any of the others go for it, I'm just getting a sense Cuban jumps on it quickly.