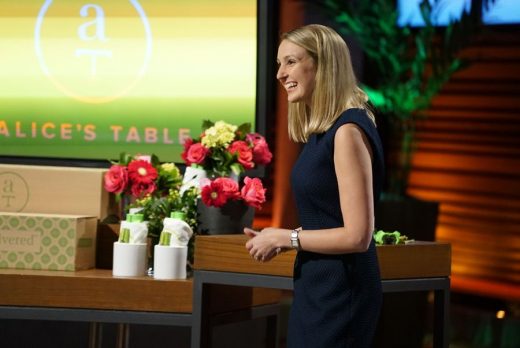 Alices Table is like having a Tupperware party, but with flowers. Here's the deal: for 700 bucks, you get all the training, back-end support, and flowers for a 20 person event. Once you pay, you are an "Event Executive" in the Alices Table world. Execs can expect to earn $400-$500 per event.
All the execs need to do is promote the event, show up with flowers and materials, and teach flower arranging. You can do an event in your home or other private space or in a local bar or market. The event management software execs have lifetime access to takes care of the rest. As their website says: "Alice's Table brings women together to learn new skills, and live a social and creative lifestyle."
The business is the brainchild of Alice Lovell Rossiter who started the business hosting flower arranging classes in Boston bars. The events were so popular, she turned it into a business opportunity for women. While the events are the main business, execs who have good skills can train to do weddings and other events – for even bigger bucks.
The business only operates in about seven cities now, but for it to grow, Alice needs more executives. A Shark would help her with exposure and with cash to do events in more cities, which would attract more executives. Will a Shark make an arrangement with Alices Table in episode 911?
My Take on Alices Table
I'm really not in to arranging flowers and I'm not a woman. Now I'm sure Alice wouldn't discriminate against any men who signed up to be Event Executives, I'm betting not many do. I know a lot of women who'd love to attend one of these events and a few that would make good execs. I think it's a great way to start a small business or even a side hustle for a savvy female entrepreneur.
These days, it's nice to have support on the back-end while starting out. $700 is small change to start a business, too. This business grows if Alice provides good support and her event execs are successful. It's like being in business for yourself, but not by yourself. I am in.
Will Sharks Ask Alice to Partner Up?
In the press photos, Sarah Blakely looks very enthusiastic about the flowers. She's very much into empowering women in business, so she may make a bid. I don't think Lori will partner with her on this one though. Daymond and Mark likely take a pass, too.
That leaves Mr, Wonderful. I think he makes a bid for three reasons. One, Alice is based in Boston where O'Leary lives. Two, he likes female CEO's and entrepreneurs. Three, this would fit in perfectly into the "Something Wonderful" platform he's built to serve the wedding industry. Alices Table makes a great wedding shower event and adding the wedding flowers component is a natural. Expect a deal with Mr. Wonderful after a Shark fight with Sarah Blakely.