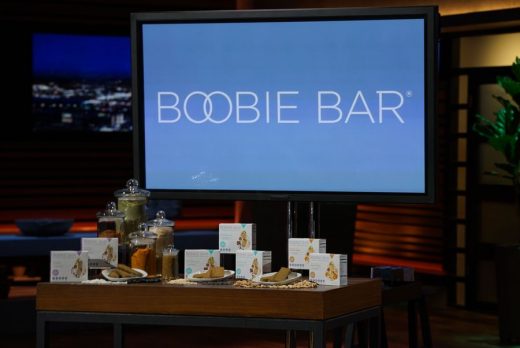 Despite the rather colorful search results that pop up when you google "Boobie Bars," it's actually a real product with real benefits for nursing moms and children. Each Boobie Bar has a mix of all natural herbs that provide a daily dose of galactagogues – nutrients that increase lactation in nursing mothers.
Having a child wreaks havoc on a woman's body. Couple that with the sleep deprivation and energy required to take care of a baby, and many (if not all) mothers have trouble getting the proper nutrition they need for milk production. Boobie Bars ensure nursing moms get what they need to feed their babies a healthy diet. It's like the old saying goes, if mom's healthy, baby is healthy.
The product was originally created by Registered Nurse and certified lactation councilor Wendy Colson for her clients. She started mixing them up in her kitchen back in 2011. Her clients raved and cleaned her out every time she made a batch. Eventually, Nurse Wendy decided to patent her formula and make Boobie Bars available commercially. She probably wants a Shark's help getting distribution deals with big grocery and drug stores. Will a Shark step up to the bar and invest?
My Take on Boobie Bars
There are so many off-color jokes floating around in my head as I write this, it's going to be very difficult to stay on topic! That said, as the father of five, I've dealt with breast-feeding mothers in very intimate settings on numerous occasions. Neither of my wives had difficulties breast-feeding and all my kids grew up healthy. Both moms took supplements their lactation councilors told them to take and there were no problems.
We know a few women who had tremendous difficulties breast-feeding. Several had problems producing enough milk and it was a stressful time for them. If Boobie Bars make moms and babies healthier, I'm all for it. While I am not a customer, I am in.
Will Sharks Bid?
This is a very interesting product that the Sharks will need to take a close look at. The deal has to be right for it to work. Even if it is, it's going to be a tough sell in the Tank. Nutritional products that make any kind of health claims make the Sharks wary. They always talk about FDA testing when a nutritional product is in the Tank. The fact that Colson is a nurse and has a patent may help, but she'll need to reassure the Sharks regarding any claims she makes.
That said, I think the only bidders are either Lori or Sarah. Not because they are women, but because they are best situated to provide value (other than cash) to the business. Lori is very good with retail products, as is Sarah. The fact that they are women doesn't hurt either. I don't think the guy Sharks bid and I am not sure if the women do either – for the reasons stated above. If Colson does get a deal for Boobie Bars, it's Lori or Sarah.