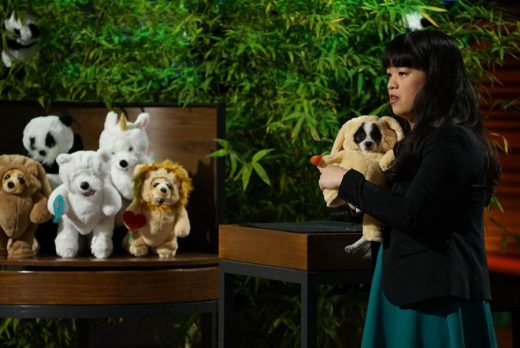 The first time you see Eugenia Chen's dog Huxley running around in a Panda Loon costume, you can't help but chuckle. Chen, who loves both pandas and Huxley, her Pomeranian, started Panda Loon in 2013 as more of a side business than anything else. Chen teaches math at She sells dog accessories, panda bear related apparel and of course the panda dog costume.
Her big break came when she posted a video on Youtube of Huxley running around in the panda costume. After racking up millions of views (and making Huxley a star), her website exploded. She had more orders than she ever imagined and she started working on Panda Loon full-time.
Since she started, Chen added other costumes. In addition to the Panda costume, there's a teddy bear, a polar bear, and a lion too. She also sells an entire line of pet apparel. Chen is cashing in on the small dog craze that's sweeping the nation. There are 27.5 million small dogs in the USA and their owners LOVE dressing them up in silly costumes. Whether Chen can continue to ride the wave of her internet fame or not, she hopes a Shark can help her build a sustainable business for the long haul. Will a Shark go into business with a panda?
My Take on Panda Loon
I don't mind little dogs, unless they're yappy. I always had big (70-100 pound) dogs, but I wouldn't rule out a small dog in the future. I would never buy one of these costumes though. My wife has an aunt whose dog has a bigger wardrobe than she does. The poor thing looks ridiculous!
My daughter brought her cat home for Christmas and dressed it up in a reindeer costume. The cat did not like it. I don't think subjecting an innocent animal to ridicule is nice and that's how I feel. I do know there are millions of pet owners who love dressing up their pets, so Panda Loon will probably sell a ton of costumes. If Chen can parlay this initial spike in customers into a long-term pet business, I wish her well.
Will the Sharks Dress up a Deal?
I'm thinking this pitch gets a lot of laughs, but the products end up being too niche for the Sharks. It's too bad Robert isn't on tonight. This business is like Tipsy Elves for dogs, so he might've bid.
I can't see any of the Sharks wanting to get into the pet costume business. The best Chen can hope for is a positive pitch and that a lot of small dog owners are watching. She's discounted her pricing for the show and looks ready to go, so she'll probably see a big windfall from the Shark Tank Effect.