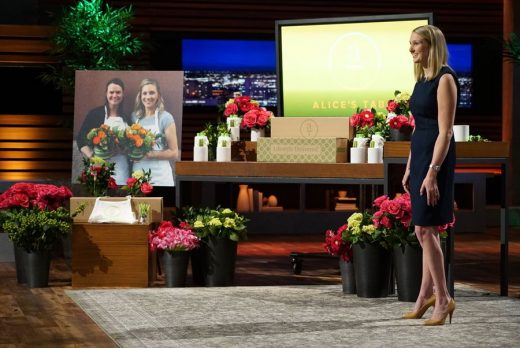 Alice Lovell Rossiter pitches Alice's Table, her flower arranging party business opportunity, in Shark Tank episode 911. Rossiter provides women (and men presumably) the opportunity to start their own business by setting up flower arranging parties in their own venue. Think Tupperware party with flowers and you have the basic concept.
For $699, would be flower arranging hostesses or "Event Executives" receive training, lifetime access to the proprietary event management platform, all the materials for a 20 person event, and more. Event Executives earn 70% commission on ticket sales before the cost of flowers and supplies, which on average cost $22  can also do weddings and other events per person, per event. All billing and payments are handled by the Alice's Table platform. The website claims average earnings per event are $400-$450.
There's an opportunity to host public events at bars, retail store etc. Public event tickets get sold through the Alice's Table website and cost $65. Private events can be held in your home, office, or other private venue. Rossiter recommends holding a private event with friends and family first to "work out the kinks." Skilled event executives also have the opportunity to do floral arrangements for weddings.
Alice's Table makes its money through the back-end support they provide to Event Executives. Training, payment processing and marketing assistance are among the benefits provided. She started in Boston with her own business and has events in Providence, Chicago, Austin, San Diego, San Luis Obispo, and San Francisco. By providing women the opportunity to operate their own business, she hopes to grow hers. She's looking for a Shark to help her with that growth.
Will a Shark want to arrange a deal for Alice's Table?
Alice's Table Company Information
Video

Posts about Alice's Table on Shark Tank Blog
Alices Table Flower Arranging Biz Opp
Alice's Table Shark Tank Recap
Alice enters seeking $250,000 for 6.5% of her business. Before explaining how the business works, Mr. Wonderful is aghast at the valuation. Alice invites Sarah onstage to show her how to arrange flowers, then she asks the rest of the Sharks to join in on the "class." She serves the Sharks a Moscow Mule and proceeds to give them directions on how to arrange their flowers. The Sharks ham it up a bit while making their arrangements, then head back to their seats.
While heading back to his seat, Daymond makes a quip about the valuation. Lori wants to know how it works. Alice tells her people buy in  as a party host for $699 for the full kit which costs her $550. Parties can be hosted anywhere and attendees pay $65 to come arrange flowers. Alice gets 30% of that money. She tells mMark that she wants to start more "businesses in a box."
So far, only 53 people have purchased a host kit, but Alice explains she made over $100,000 in a year hosting parties. Total sales this year are $600,000 of which Alice gets 30%. This causes Kevin to question the valuation but offers $250,000 for 25%. While explaining the business in a box idea, Daymond interrupts and goes out. Mark invites Sarah to join him in his offer of $250,000 for 10% with an option to invest further as the company grows. Alice agrees!
Alice's Table Shark Tank Update
The Shark Tank Blog constantly provides updates and follow-ups about entrepreneurs who have appeared on the Shark Tank TV show. The deal with Sarah and Mark closed. In the immediate aftermath of the show, Alice signed up over 70 new hosts and her personal events were booked solid.
This business gets an update segment in episode 1211 where it is revealed she's done a deal with 1-800 Flowers. Business suffered during the Covid-19 pandemic, so Alice shifted to online experiences and 1-800 Flowers shipped the flowers. Since the pandemic, they've added to their experiences. They now offer cooking classes events, charcuterie board creation, and cheese tastings. In January, 2022, 1-800 Flowers acquired Alice's Table for an undisclosed amount; Alice remains with the company as president. As of December, 2022, the company is still in business with annual revenues of $6 million.