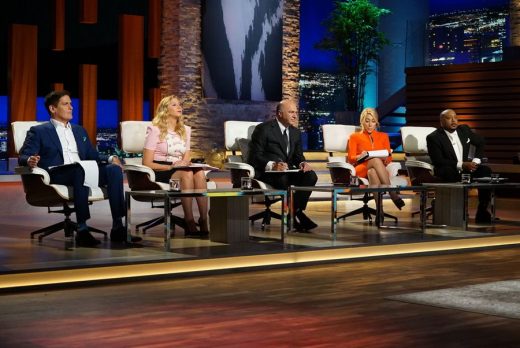 Episode 911 is the second show airing January 14, 2018. Billionaire guest Sharkette Sarah Blakely joins the panel for the second time in season nine. Four new businesses seek mentorship and cash from one of the wealthy panelists. Registered Nurse and board certified lactation consultant introduces the Boobie Bar, a snack bar full of  a proprietary herbal blend to help breastfeeding moms produce more milk. Eugenia Chen hopes Sharks share her love of pandas when she pitches Pandaloon, her panda-themed dog costume and apparel business. Alice Lovell Rossiter wants to arrange a partnership with a Shark for Alice's Table, her business opportunity for hosting flower arranging events and parties. Nick Kierpiec, Glen Duff and Scott Parks seek a deal for Zup, their line of easy to use, towable wake boards.
Do the Sharks bite on any of these businesses?
Tonight's update segment features Aqua Vault, a season six business Daymond invested $75,000 in for 25% equity. In a Beyond the Tank segment, Aqua Vault founders Avin Samtani, Rob Peck, and Jonathan Kinas were growing rapidly and taking big orders from waterparks. They had minor production issues at the time, but Daymond felt they could work through it. Tonight, we'll see how far they've come.
The Sharks
---
There are 28 Shark Tank Episodes for Season 9. This season features more appearances by "guest Sharks," including billionaire Sir Richard Branson. The 200th episode also airs this season. Casting is currently closed, but it never hurts to get a head start on season ten! If you would like to appear on the show, check out our Auditions and Casting information.
Episode 911 – The Shark Investors and Entrepreneurs
The Shark Tank Episode 911 entrepreneurs will make their best pitch to the panel of five Shark investors who will use their own money if they choose to invest. The Shark Investors negotiate on the spot without any previous information, which differs from typical negotiations between venture capital investors and entrepreneurial start-ups.
Companies pitching the Shark Investors must go through a rigorous due diligence process before an on-air deal is completed. Shark Tank Blog follow ups help you keep track of the companies that end up successful and the ones that don't complete their deal.
Thank you for reading SharkTankBlog, the number one site for Entrepreneurs, Investors and Fans. Our content updates multiple times day, giving you the latest information on Episode 911, Season 9, and all other seasons and episodes.
Episode 911 Press Release
Shark Tank: Episode 911 (1/14)
BILLIONAIRE SPANX FOUNDER SARA BLAKELY RETURNS TO THE 'TANK,' IN A NEW EPISODE OF ABC'S 'SHARK TANK,' SUNDAY, JANUARY 14
"Episode 911" – An entrepreneur from Brookline, Massachusetts, empowers women to create a community that prioritizes living well, working hard and encouraging women to build businesses of their own with her idea; a trio of entrepreneurs from Williamsburg, Virginia, pitch the sharks a fresh, new way to ease people into water sports with their all-in-one invention; a registered nurse turned entrepreneur from Carlsbad, California, helps breastfeeding moms find a healthy and convenient way to increase their milk supply with her delicious food item; a panda-loving entrepreneur from Burbank, California, hopes to make panda lovers out of the Sharks when she presents her animal-themed pet apparel company, on "Shark Tank," SUNDAY, JAN. 14 (10:00-11:00 p.m. EST), on The ABC Television Network, streaming and on demand.
"Shark Tank" features a follow-up with entrepreneurs Jonathan Kinas, Avin Samtani and Robert Peck from Florida who got an investment from Daymond John for their Aqua Vault, a lockbox to protect personal valuables at the pool or beach.
The Sharks in this episode are Mark Cuban, Lori Greiner, Daymond John, Kevin O'Leary and Sara Blakely.