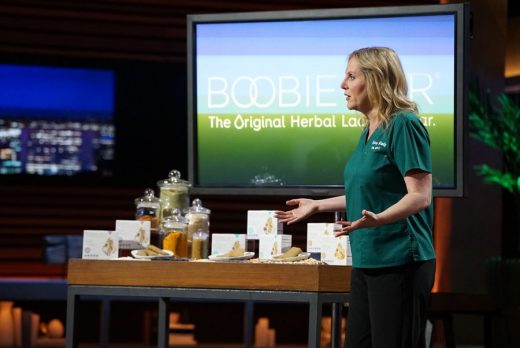 Wendy Colson seeks an investment for Boobie Bar, her patent-pending line of herbal lactation bars, in Shark Tank episode 911. Colson is a Registered Nurse and board certified lactation consultant and constantly got the same question from her clients. They wanted to know of a healthy, on the go snack that would either maintain or increase their milk supply.
She made the first Boobie Bar in her home kitchen in 2011 and gave them to her clients. Each Boobie Bar is chock full of galactagogues – nutritional ingredients essential for mothers to produce an ample milk supply. One bar provides this with what she calls "the boobie blend," a blend of herbs that provides an entire daily dose of galactagogues. Before Boobie Bars, mothers needed to brew teas and take a half dozen supplements to get the proper daily dose.
Her clients loved the home made products and they ate as many as Nurse Colson could make. They urged her to share them with the rest of the world. In 2015, Colson made that happen. When moms all over the USA and Canada realized a Boobie Bar a day could increase milk output by up to 4.6 ounces a day in just three days, the word spread. Now she has a booming business she wants to make bigger with a Shark's help.
Will a Shark want in on this boobie bonanza?
Company Information
Video

Posts about Boobie Bar on Shark Tank Blog
Boobie Bars – Herbal Lactation Bars
Boobie Bar Shark Tank Recap
Wendy enters the Shark Tank seeking $150,000 for 10% of her company. She opens saying her company is the hottest bar in Las Vegas and Mark announces "I'm out." Then she starts her real pitch, telling her story and pitching her product. As she hands out samples, Sarah asks what would happen if a man ate one. Wendy said it would be thrilling if she could make men lactate.
Replying to a question by Mark, she says she's the only lactation bar on the market. Mark and Kevin are skeptical about the health claims. She says her formula is based on women using herbs for lactation for centuries. The only "clinical trials" she's done is her own. The women in her study increased milk production to an average of 4.6 ounces, up from an average of 1.5 ounces.
Mark is still very concerned about her health claims, but Daymond is interested in sales. Repeat orders are over 50%. She's sold $770,000 in her first two years in business. She's in 500 stores, including Wal Mart and buy buy Baby. Mark thinks marketing to desperate moms is immoral, he's out. Lori is out because she has no clinical testing. Sarah goes out for the same reason.
After those three go out, she tells Daymond and Kevin she has a subscription box plan. Kevin says he loves the business and offers $150,000 for 20%. Daymond says he wants to license it and have her be the face of the company. He offers $150,000 for 20%. She takes Daymond's offer since he has young children.
Boobie Bar Shark Tank Update
The Shark Tank Blog constantly provides updates and follow-ups about entrepreneurs who have appeared on the Shark Tank TV show. Boobie Bars are available in most Wal Marts and their online store, Target, and Amazon. Since Wendy aired, other lactation bars and cookies have come on the market.
She continues to innovate, however. She's introduced Boobie Bark, Boobie Body (protein shakes) and an electrolyte drink mix called Hydro Mom.  In January, 2020 she introduced Boobie Bears – a Gummy Bear type candy with her blend of herbs. She also has products for pregnant moms. Whatever Wendy is doing, she's doing it right. As of August, 2022, she's doing $2 million in annual revenue.