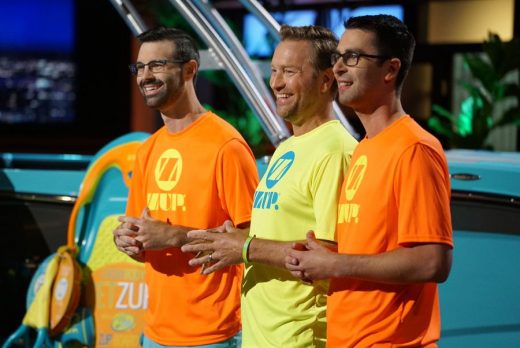 Nick Kierpiec, Glen Duff and Scott Parks seek a deal for Zup, their line of towable water sport boards, in Shark Tank episode 911. Zup boards are easy to ride and brightly colored for safety. Users can lay down, kneel or stand on the boards based on their skill level. They're designed to replace all the typical tow-behind "toys" you'd normally find on a boat: tubes, wakeboards, water skis etc. By combining all the elements of  these items, Zup boards clear out the clutter without losing any of the fun.
Glen Duff and Tim Zeckser started the business in 2008 out of their garages. They wanted to create a safe, comfortable and easy to use product that allows users to ramp up their skills. There are three models with single or double rider options. The models, called You Got This, Do More & You Go are based on the rider's skill level.
The boards have soft grip-able handles and are covered in a soft foam for safety and comfort. Any boat with a 100 HP engine can tow them – even high-powered jet skis (where allowed by law). The guys are committed to making a safe, quality product while still keeping an eye on the bottom line. The boards are available online at Amazon and at Overton's Sporting Goods stores. They likely want a Shark's help getting further penetration in sporting goods retail locations.
Will a Shark want to get on board with this business?
ZUP Company Information
Video

Posts about ZUP on Shark Tank Blog
ZUP Shark Tank Recap
Nick, Glen and Scott enter the Shark Tank seeking $300,000 for 10% of their business. They present their product and give their pitch. After the demonstration, the Sharks want to know the numbers. They have $2.5 million in total sales with $1 million coming this year. Sales come from 180 retailers in the USA and from online channels like Amazon. Their products range from $279 to $400 with blended margins of 54%. The pitch starts to fall apart a bit here with the guys going off on tangents and not answering questions directly.
Mark isn't buying the fact that they say they're disrupting their industry; he's out. Daymond doesn't think he could have a conversation with the guys; he's out. When Kevin learns they have $550,000 in debt, $200,000 in receivables and $100,000 in the bank, he says it's 50-50 they'll be out of business; he's out. Lori says she can't be all in on this business; she's out. Sara quickly follows, telling the guys they need to work on their messaging.
ZUP Shark Tank Update
The Shark Tank Blog constantly provides updates and follow-ups about entrepreneurs who have appeared on the Shark Tank TV show. In the immediate aftermath of the original air date, their website traffic  increased 4000% and they did a lot of sales. Investors also contacted the company making inquiries. In August, 2018, about 7 months after airing, Zup got involved in a patent lawsuit. They were in discussions with a company called NASH to collaborate on some boards. NASH signed a non disclosure agreement, but the deal never worked out. Soon thereafter, NASH began producing wakeboards of their own. The judge in the case ruled against ZUP. You can read all about that HERE.
As of December, 2022, the company is still in business with $3 million in annual revenue.