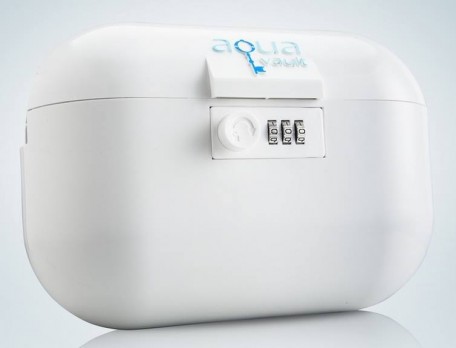 Avin Samtani, Rob Peck, and Jonathan Kinas seek to lock up some capital when they pitch Aqua Vault, their outdoor safe, in Shark Tank episode 621. The three recent college grads invented the Aqua Vault as a way to secure valuables at the beach after a thief relieved them of their valuables which they'd stashed in their shoes.
AquaVault is a locking, rigid, plastic case big enough to hold a wallet, cell phone, keys, and other small valuables. The lid locks with a three digit combination lock that mounts on a pole or post up to two inches in diameter. If you want to go for a swim or to grab something at the snack bar, simply lock your Aqua Vault to a bike, bike-rack, or your chair. Many beach hotels in Florida rent them and provide racks to hold Aqua Vaults securely.
The Aqua Vault sells for around 40 bucks and the guys donate a portion of all profits to local Make-a-Wish Foundation chapters. They want their product to be standard equipment for beach-goers and vacationers everywhere. They're likely looking for a Shark to help with cash for expansion. Will  Aqua Vault lock on to a Shark and get a deal?
Aqua Vault Shark Tank Recap
Avin, Rob, and Jonathan enter seeking $75,000 for 12% of the company. The guys explain why the AquaVault is a useful tool at the beach and they demonstrate the product. They sell it wholesale for $22 and it costs them $10 to make it – but they've only done one small production run. Mr. Wonderful claims their competition has pitched their business to him – he wants to know Aqua Vault's business model.
They explain they want to sell direct to consumers and wholesale to hotels, resorts, and cruise ships. To date, they have $87K in sales in six months and they have a contract for an additional 1,000 units which will put them over $100K in sales in their first year. Robert thinks they should give the product to hotels for free, then take a share in recurring revenue. They explain they couldn't do that because as a new, unproven product, many hotels wouldn't "open their books" to them.
Their plan is to continue to sell to hotels and to offer the product as an in-room purchase so folks can take the product to the beach or pool. Robert likes the idea and offers $75K for 25%. The guys think 25% is a little high; Robert doesn't mind waiting for other offers. Daymond has a question: he wants to know if they have any other deals besides the hotels they're currently in. They sold 800 units to HSN and only sold 200 units through. Online sales number 250 units, which the Sharks think is low. Robert doesn't like what he's heard, he goes out.
Mr. Wonderful says "POOF" the deal is gone. Daymond wants to know about water parks and says he has a deal with HSN; he says he can help get manufacturing costs down and he offers $75K for 25%, but he wants an answer NOW. They do the deal. Daymond believes they were so busy getting the product made, they couldn't focus on sales.
RESULT: DEAL with Daymond for $75K for 25%
Aqua Vault Shark Tank Update
The Shark Tank Blog constantly provides updates and follow-ups about entrepreneurs who have appeared on the Shark Tank TV show. Aqua Vault closed their deal with Daymond and they have an in-depth update segment in Beyond the Tank episode 203.
The company gets another update in season nine, episode 911. In this update, they introduce their second product, the Flexsafe. It's a slash and water resistant safe that also is an RFID blocker to keep credit cards safe. Since then, they introduced the Flexsafe mini, a waterproof phone case and a credit card sized phone charger. Aqua Vaults can be rented at more than 200 hotels like Marriot, Disney, Margaritaville, Universal Orlando, Atlantis, Hilton and many more.
In 2020, when the Covid-19 pandemic hit, all their hotel and travel related business dried up. The guys needed a new product to sell, so they invented Charge Card, a credit card sized phone charger. It was a successful pivot for them. In August 2021, the company closed a Startengine stock sale for $1,069,663 – $7 a share.
As of May, 2022, lifetime sales are $26.5 million.
Posts About Aqua Vault on Shark Tank Blog
Aqua Vault Company Information
Video