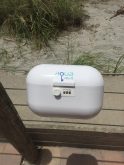 When Aqua Vault was featured on Beyond the Tank, Avin, Rob, and Jonathan sent me a sample to do an Aqua Vault review. Aqua Vault scored a deal with Daymond in season six; he invested $75K for 25% of the business. In the Beyond the Tank segment, we saw the company grew from less than $100K in yearly sales to over $500K.
Despite the success, there were some growing pains. They were taking orders faster than they could produce the product. Daymond offered some suggestions and it appears the business is on track and set to grow again with a large order from a water park company.
Aqua Vault Review: the product in action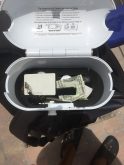 I received my Aqua Vault review sample in the middle of winter. Even though I live in Florida, I don't go to the beach unless it's WICKED HOT. I recently went to spend a day at the Venice Pier to go fishing, snorkeling, and shelling. Usually, I keep my valuables (wallet, keys, iPhone) on my person, but since I was doing several different things, I decided to lock up everything in the Aqua Vault. Since I was using my phone as a camera, it's not in the picture!
The Venice Pier is a popular and crowded spot. Along with numerous fishermen and beach goers, it's the home of Sharky's on the Pier, a popular Tiki bar and restaurant in Venice. Needless to say, on weekends, the place is JAMMED. With all those people around, it's a good idea to keep your valuables secure.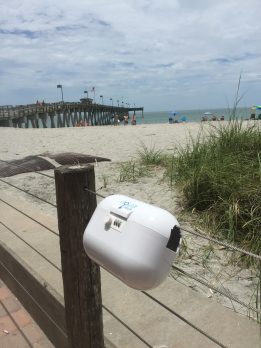 The Aqua Vault allows you to customize a 3 digit combination to secure the rigid plastic safe to a beach chair, railing, or other similar place. I chose a steel cable on a fence that separates the entry to the pier and restaurant and the beach. It's a high traffic area, far away from the end of the pier, where I went fishing for several hours.
Good Catch
After fishing, my wife, daughter and I went swimming and snorkeling in the ocean for a few more hours. All told, we were at the pier nearly seven hours. The entire time, we never checked on our Aqua Vault.
After grabbing a snack and a few beverages at Sharky's, we gathered our fishing equipment and other belongings to head home. On the way out, I unlocked the Aqua Vault and everything was still there, safe and sound. The retail manager for Sharky's asked me about it and they are looking into getting some to supplement their beach chair rental business.
We are headed up to Siesta Key, TripAdvisor's best beach in the U.S. for 2015, next week. This beach attracts tens of thousands of visitors a day. While most are there to have a good time and enjoy the pristine water and cool, quartz sand, there will likely be some with larceny on their mind. We'll be sure to bring the Aqua Vault!