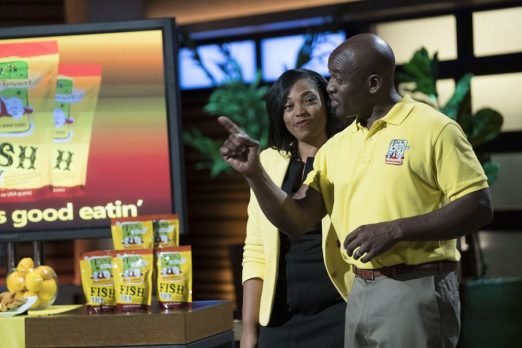 Joe and Maranda Dowell first created Joe's Gourmet Fish Fry Mix way back in the 1990's when Joe opened four restaurants focusing on his fried delicacies. Two of those restaurants, both in New Orleans, were destroyed by hurricane Katrina in 2005. That's when Joe started focusing on more event style catering to drive his business. He'd travel around to big fairs, festivals and other events, set up his booth, and start slinging fried fish.
That's about the time he decided to market his product. Joe claims customers have "an emotional reaction" when they try seafood dipped in his fish fry mix and he frequently sees lines around the block to try his food. After he formed his company officially in 2007, he continued evangelizing his mix across the southeast. The big break came when he did a product demo at a Wayfield store opening. The buzz surrounding Joe's Gourmet was so big, he got the product on store shelves.
Once it became clear Joe was on to something, Maranda quit her job as a corporate retail real estate specialist and joined the business. Over the next two years, their fish fry mix gained more and more market share and got on store shelves in Publix, HEB, Meijer, Kroger and more. The couple hit a home run in August 2017 when Wal-Mart started carrying Joe's in 1800 plus stores.
The story of Joe's Gourmet Fish Fry mix is one of grit, determination and a never say die attitude. After Katrina, instead of giving up, Joe stepped it up. Success didn't come overnight for the Dowells, but they made it happen. Sharks love entrepreneurs like the Dowells and, as long as there's no fried Shark on the menu, they'll make their pitch count in episode 908.
My Take on Joe's Fish Fry Mix
I fish nearly every day and I eat my fair share of fish. I don't always fry my fish, but I do often enough to find this product appealing. When I fry fish, I use pancake mix, followed by an egg wash, then I dip it in seasoned panko bread crumbs. It comes out with a crispy and slightly sweet batter that compliments the fish. One of my favorite fish to fry for fish sandwiches is bonnet head shark!
Since Joe's is so widely available, I'll be looking for it at my local Wal-Mart and Publix the next time I wander in. I enjoy trying new food products and Joe's is moderately priced at just $5 for a one pound bag. The next time I write about Joe's, it will be a product review. I am in!
Will Sharks Fry this Fish?
Joe's website doesn't have the look of a site that's focused on e-commerce. That often indicates there was no deal in the Tank, but selling fish fry mix is best done at the grocery store level.  It doesn't strike me as a product that's easy to ship.
What makes me think Joe and Maranda got a deal is the Wal-Mart announcement. Wal-Mart isn't the easiest retailer to break into, especially 1800 stores out of the box. Since the timing of the deal was likely just a month or two after taping, that could indicate a deal. It could also just be the result of Joe and Maranda's signature hustle and the timing is just a coincidence.
Here's what I think: one of the Sharks does a deal, but Joe and Maranda closed the Wal-Mart deal prior to doing their due diligence with a Shark and then they back out.