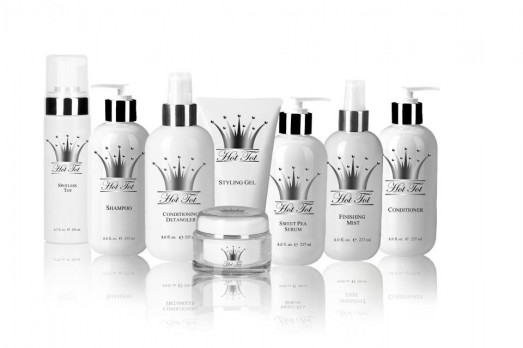 Hot Tot entrepreneur Megan Gage brings her kids' hair care products to the Shark Tank in episode 412. Megan created Hot Tot when she became concerned about harmful chemicals and artificial scents in the majority of kids' hair care products on the market. She didn't want a bunch of chemicals in her kids' hair, so, along with her husband, she developed a line of hair care products with safe and natural ingredients.  HotTot also aims to be a socially responsible company that gives a "sizable portion" of its proceeds to charity. Megan Gage believes she should teach her children by example.
Hot Tot Shark Tank Recap
Megan came into the Shark tank with a relatively new business (15 months) and $20K in sales. She was seeking $50k for a 15% share in the business. She tells the Sharks her product is better than every other kids hair care product out there. Kevin doesn't think anybody cares about kids hair care (he should NOT be giving hair care advice), so he's out. Lori doesn't like the packaging and thinks it's too early; she's out. Mark likes Megan and the product; he offers $75K for 40% and says the first thing they should do is testing so they can label the product hypoallergenic. Robert wouldn't offer as much as Mark, so he's out. Daymond claims his Paul Mitchell connection would make him a better partner, but he goes out too. Megan does the deal with Mark and is visibly overjoyed.
Hot Tot Shark Tank Update
Shark Tank Blog interviewed Megan Gage for a Shark Tank update. Megan and Mark did the deal and did the allergy testing for the product. Hot Tot is now officially Hypoallergenic! Megan was approached by many people wanting to distribute her product, but she's opting to stick with her strategy of slow growth and distributing through top tier, luxury hair salons. She created a brand new category: high-end, kids hair care products. As of April, 2022, she still sells in salons and online on her website and Amazon. Annual revenue is $5 million.
Posts about Hot Tot on Shark Tank Blog
Company Information