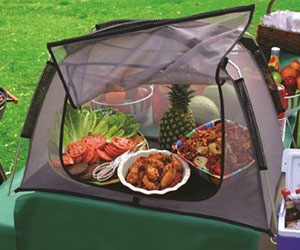 DURA Tent entrepreneur Dan Rothweil is not a germaphobe, but he designed his table top food screen to keeps nasty insects and the germs they carry off of out-door food spreads. Anyone who has ever been to a picnic, tailgate party, or camping is familiar with flies and insects landing on their food; DURA Tent eliminates the problem. The DURA Tent is made out of the same materials as full-sized camping tents designed to house people, folds up into a small package, and is easily portable. The company bills itself as "'The' Table Top Food Screen," and has been in business for a little more than four years and has had increasing sales each year.
Dura Tent Shark Tank Recap
Dan Rothweil comes to the Shark Tank in episode 412 looking for an investment of $50,000, in return for 30% of the company. The pitch is compelling. He includes a short video clip detailing how flies carry ecoli and other dangerous bacteria.
The Sharks chuckle, and Kevin O'Leary asks if "we're going camping with our food," but the laughter turns to impressed "wow"s when Rothweil explains he's sold 50,000 units already. The tents sell for $19.95-$34.95 depending on the size, and cost $4.65 and $7.27 each to make. The numbers look good, but Lori Greiner questions the math. Rothweil hasn't done the arithmetic correctly, and it trips him up. His sales are actually at $35,000, heading for $40,000, still impressive sales.
The Sharks move on, with Kevin O'Leary asking about patents. Rothweil has patents on his tents, and is willing to sell it to a tent manufacturer, but he's interested in selling through QVC.
Robert Herjavec can't get behind the idea of putting food under a tent. Mark Cuban doesn't feel he can "add value" to the product. They both go out. Kevin O'Leary believes "you're going to sell a bunch of fly tents." He makes an offer, for $50,000. He doesn't want equity. He wants $2 on each small tent, and $2.50 on the larger tents. Rothweil wants more marketing clout. O'Leary invites Lori Greiner to join the deal. Greiner doesn't believe there's a strong market. She's out.
Daymond John is out based on Lori's refusal. Rothweil turns down O'Leary's offer, because he's looking for marketing, more than money. It's a nervy move, but will it serve him well down the road?
Dura Tent Shark Tank Update
Rothweil didn't get the deal he desired from Lori Greiner, but he took her suggestion for a name change to heart. The product has been rebranded the "Picnic Pal" and is being sold through the new website. Even though Rothweil didn't get a Shark to bite on his food tent, he achieved his goal of taking a product from conception to consumer, and is doing a brisk business selling tents for summer food.
As of August, 2021, the products are "currently unavailable" on Amazon and "sold out" on the company website. As of December, 2021, the products are back online on Amazon and the company website. By May, 2022, annual revenue is just under $1 million.
Posts about DURA Tent on Shark Tank Blog
DURA Tent Information