DURA Tent bills itself as "THE Table Top Food Screen." It's a novel idea that has been done before, but it hasn't been done quite like this! I own a food screen designed to fit over a plate of fruit; it has a funny little hula girl for a handle and a fine mesh to keep fruit flies off in the warmer months. My hula girl screen has no bottom and is designed for indoor, counter top use. DURA Tent takes the food screen concept to a whole new level.
More Food Tent than Food Screen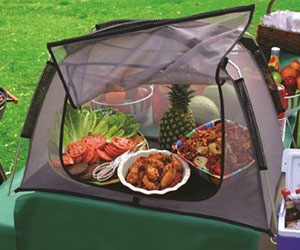 Just about anyone has been to an outdoor gathering where food is served. One of the big problems is keeping insects off the food. Flies poop on your food when they land and, while I have always held on to the belief that prudent amounts of beer or other alcoholic beverages will kill any germs, they can and do spread sickness. That's why you might want a food screen to cover up the out-door spread! DURA Tent is much more than a food screen to set over the food. It's an actual tent, just like the ones folks sleep in while camping, for your food! The DURA Tent sets up with mini tent poles, has a bottom, has fine mesh to keep the bugs out, and anchors to the table so the potato salad and other snacks don't go flying. The tent design also keeps the food drier than a typical food screen if an errant downpour erupts.
Entrepreneur Dan Rothweil created the DURA Tent four years ago to fulfill a need for quality, out-door food protection. He claims he's not a "germaphobe," but he's smart enough to now there are a lot of them out there! Flies and other insects can transmit all sorts of nasty germs, including "Shiga toxin-producing" E. coli, or STEC for short. STEC infections can cause severe stomach cramps, diarrhea (often bloody), vomiting, and sometimes mild fever. Those aren't things you want to take home from a cookout! Short of keeping food inside, a good food screen is the best prevention for disease-spreading insects getting on food.
Will the Sharks bite on Dan's Food Screen?
The DURA Tent Food Screen is a unique product that serves a real need. It appears to be well built and it is modestly priced. Rothweil claims sales have increased in each of the four years he's been in the food screen business. These are all things that, on the surface, would appeal to the Sharks. The ABC teaser, however, states Mr. Rothweil "has trouble explaining the financial aspects of his enclosed tabletop food screen."
So what do we make of DURA Tent, given the above information? ABC is notorious (as is Mark Burnett) for "misdirecting expectations" when promoting new Shark Tank episodes. I am caught between thinking the Sharks will grill Rothweil on his numbers and make him look silly and thinking the Sharks will LOVE the product and do a deal.
Lori Greiner appears in episode 412 and the DURA Tent Food Screen could be a "hero" to her. It has all the elements of a good TV product: it serves a real (or perceived) need, it is not too expensive, and it's easily demonstrated. Lori and ABC have been making a big deal out of the fact that she (along with Mark Cuban) makes a $1 million offer to an entrepreneur in episode 412. Could she and Cuban be getting into the food screen biz? I'd have to think DURA Tent has a shot at the big money here.
Whether Dan Rothweil leaves the Shark Tank with a deal or not, I like The DURA Tent Food Screen! I am "IN."