Read The ArKeg Drink n Game Preview Post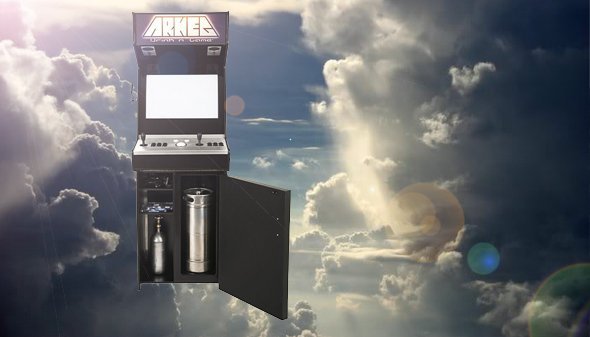 Arkeg combines two fun activities: video games and beer! The mystery entrepreneurs behind this episode 412 entrant in the Shark Tank are, according to the ABC press release, entrepreneurs Brant Myers and Dan Grimm are "two longtime buddies from San Luis Obispo, CA who combine their favorite pastimes – drinking beer and playing arcade games – into one cabinet." The Arkeg is a standard sized, classic video game cabinet with 69 pre-loaded, licensed, classic video games, and a fully functioning keg cooler and tap system. It's made of a high quality, brushed aluminum cabinet that has a PC based computer system to deliver the video game experience. You can even load your own games onto the unit. The company has been in business since 2009 and has to lay claim to one of the coolest man-cave accessories ever!
ArKeg Shark Tank Recap
Brant Myers and Dan Grimm come to episode 412 seeking $100,000 investment in exchange for a 33% stake in the company. The pair have been friends for 22 years, and have been enjoying drinking beer and playing video games together since they were young adults.
They've combined the two pastimes into the ArKeg, combining a "keg-irator" with a video game. Mark Cuban is immediately out. He "just doesn't see it."
Lori Greiner sees the product as a "gimmick." She's out. Robert Herjavec believes the idea has come along too late. He's out. Daymond John agrees, calling the it a "dinosaur." Only one Shark remains, Kevin O'Leary, but although he enjoyed the wine poured from the ArKeg, he's out.
ArKeg Shark Tank Update
Although the childhood friends had a good run, a post from May 2015 on their Facebook page indicates that the company is up for sale. The sale includes "8 ArKeg units" as well as the website and business. It seems that it truly was a product behind its time, and the Sharks were right to pass on this outdated idea. Perhaps if they can come up with a handheld device that downloads wine, they might be able to get a Shark deal, but the ArKeg is just too big and bulky for today's gamer.
Apparently, they sold the business. As of August, 2021, the product is available on Uncrate.com for $4000. By December, 2022, they are no longer available.
Posts About ArKeg on Shark Tank Blog
Company Information
ArKeg website