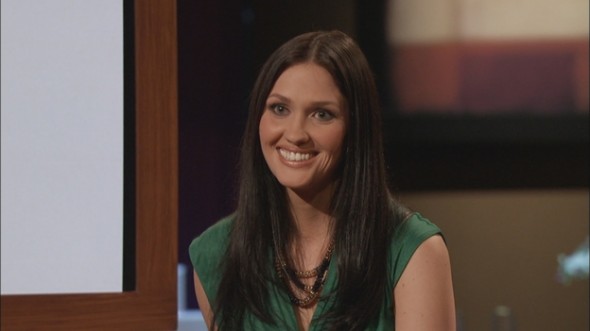 Megan Gage got a deal for Hot Tot, her kids hair care products in Shark Tank episode 412. Mark Cuban offered $75K for 40% of the company. The deal went through as portrayed on the show and Megan has been hard at work building the Hot Tot brand. I caught up with Megan Gage to get an update on Hot Tot and how Shark Tank helped propel her business to the next level.
Megan Gage Shares her Shark Tank Experience
"Part of my dream was to work at home;" says Megan, "my last real job was a social worker for fortune 500 company. I have a Master's degree in Social Work;  I loved the work, but hated the commute. I literally didn't see daylight in wintertime. I loved idea that I could make money living a lifestyle, but I wanted a lifestyle business that could become a real company."
"Taking that leap was  insane – I quit my job before my son was born. Before that, I was a girl on the go all my life. My husband suggested I slow down. Hot Tot started as a silly thing when I was home with my son: there's not much for baby boys when it comes to hair care, so I used baby lotion and pomade to curl his hair. Everywhere I went with him, people would stop and ask what I put in his hair. After being stopped 50 times, I said 'someone should do this.' My husband said LOOK INTO IT; he was the one who started pushing me."
"That's what got it started. I found a private label manufacturer in Canada. I was very frugal, I didn't want to lose money – stability has always been important to me, after all, I was still paying off student loans (I probably will be forever). I did a small run, I really didn't think it would amount anything. We did everything ourselves; me and my husband did the logo design on Photoshop. It goes to show, people can figure things out."
"We got ripped off by that first manufacturer, but the experience allowed me to get comfortable with the idea. I sent out my first press release and got responses from Pregnancy and Newborn Magazine in 12 hours. To me, that was a BIG DEAL! After that, I had my AHA MOMENT. I figured let's do this right: we'll make it in the USA, and I set out to learn everything about manufacturing and I began to realize the business world and the social worker world are totally different. The American manufacturer was more expensive, but by this point my frugality was replaced by confidence!"
Megan Gage on the Road to Shark Tank
"I became a fan of the Shark tank about six months before I applied; my husband kept saying 'you should do it,' so I applied. About two weeks later I was doing an interview for a 'mommy blog' and the interviewer said 'you better answer all these questions right so when Mark Cuban looks into you, you'll look good."
"I applied last February (2012) and didn't hear anything. I didn't have much money, but I figured I could afford a PR firm for 3 months. I told the girl that upfront. When I called to let her go, she asked me about Shark Tank. She got a call from a producer asking if she knew of any interesting baby products companies! That led to a phone interview and they asked me to send in a video. All because of her, I ended up taping around the 4th of July (2012). "
Megan Gage in the Shark Tank
"I was pleased with my edit.  I looked calm –  I didn't look terrified. I need to give them credit, they made me look better than I did. My hands were shaking while I was doing my son's hair. I really understood the process. I went in and was 100% honest. I wanted the Sharks to buy into my idea.  I went in feeling like Shark Tank was the biggest business stage in the world and I was truly happy for the opportunity. I had a lot of inventory and I had a 'freak out moment,' I was thinking I NEED an investment if I'm on the show. I had enough inventory to handle slow growth, but not enough for the Shark Tank effect."
"I went in with an open heart –  I purposefully didn't ask for much. I didn't want to get hung up on numbers, I wanted to see if there were any dreamers in there with me. We didn't haggle about numbers at all – I was totally prepared for their questions, but I  didn't want to get hung up on the preparation either. Before I went in, I was starting to panic – I was afraid I hadn't thought of everything, but that never happened. I was as prepared as I could have been. Due to my honesty in the Tank, I think it helped with the due diligence."
"I met some other entrepreneurs in LA. Zack from the Freaker was lovely in person. He overheard me talking to my husband. We only had one bed in our room and we had our son with us. He had two beds in his room and offered to switch rooms. I find myself watching the show and rooting for people I know. Since the show, I got friendly with Meg from The Bear and the Rat and Nicole from Teddy Needs a Bath. My husband and I drink Talbott Tea regularly, too."
Dealing with Mark Cuban
"There's not too much contact with Mark, we exchange update emails every week. He answers questions when asked. He's letting me run with things and I take full responsibility. He was clear he doesn't want to run the business; he gives me autonomy and I  appreciate it. Mark's wife, Tiffany, is wonderful; she's involved too. After the taping, Mark sent his financial advisor to Colorado. We walked through the manufacturing facility, toured everything. Mark Cuban Companies is kind of a boys club, but his wife – and the financial advisor's wife,  "got it" and it played a big part in moving things forward. Men get less excited about shampoo, it was nice to have the women there to be  excited about it."
"We are making money, but it's all going back into the business right now. We spent a good chunk of Mark's money on clinical testing. We can now say Hot Tot is hypoallergenic!"
Megan Gage and Hot Tot Moving forward
"We're going to Petite Parade in New York for Kids Fashion week and we'll be doing the runway models' hair. No kids' brands have stepped forward yet, we want to show the world what we want to be and get the acceptance of the salon community. We're continuing with our slow growth approach. We are calling on the Elle Magazine top 100 salons and selling direct – with no middleman, that way we know where our product is."
"It's a salon product. We believe our best shot at success is being a salon brand, following the direct distribution model. We're following Bumble and Bumble founder Tevya Finger's method:  sell 'an inch wide and a mile deep.' We believe we can do well with boutique brands for moms in upscale salons. Hot Tot is a nice add-on sale, and it costs less than mom's shampoo. We created a new category in salons that's very specific.  One by one, we're showing it works. We're finding the best people in the industry are the easiest sales."
Megan Gage on Entrepreneurship
"When I applied to graduate school for social work , my mantra was 'people don't care how much you know until they know how much you care.' That sounds 'social worky,'  but it works in business too. Telling my story lets people know I care about kids. In business, you have to be willing to share who you are and why you're here. I want to be knowledgeable and I have to start with who I am. In the end, Social Work and business are all about people."
Megan Gage was a delight to talk to. She's smart, well grounded and knows what she wants out of her life and her business. I fully believe she'll make Hot Tot another Shark Tank success story!
I had one more question for Megan Gage. She answers it on The Hot Dog Truck.