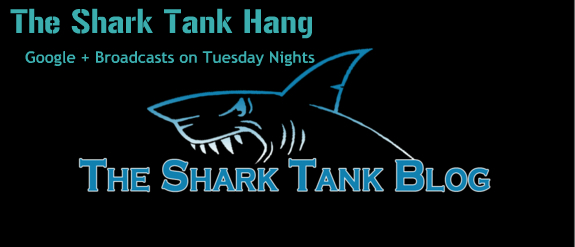 The Shark Tank Hang originally came about to interview Shark Tank Entrepreneurs appearing on Tuesday nights on CNBC's re-runs. The hangouts are done on a Google+ Live Broadcast on Tuesday Nights at 7:30 PM EST and are available here on this page and on the Shark Tank Blog Channel on video once the live broadcast is complete.
The live hang out format The Shark Tank Hang uses gives fans a glimpse of the entrepreneurs who appeared on the show in the past. A lot changes for most businesses once they leave the Shark Tank, mostly for the better, and it's interesting to see what's happened with them.
Videos
All Shark Tank Hang Videos are here, most recent to the oldest.
)
The Shark Tank Hang Moving Forward
For the Tuesday night live broadcasts, The Shark Tank Hang features a business that appears on CNBC later that evening. Shark Tank Blog will expand on this format, doing live interviews with other entrepreneurs when their availability allows. Those videos will be available here and on YouTube as well.
My goals for The Shark Tank Hang are to have the video format as an additional resource to the interviews and updates Shark Tank Blog conducts with the entrepreneurs who appear on the show, whether it's ABC or CNBC. Updates on Shark Tank businesses will be in both video and written format with this plan.
The Shark Tank Blog supports entrepreneurs. It's been the site's mission since the beginning. By giving Shark Tank entrepreneurs another forum, they can let the public know what happens after the Tank and hopefully make people more aware of their business' goals, progress, and changes.
Remember: Shark Tank is a TV show. Everything that happens on air is what the producers want the public to see. They are telling a story, and it's not always the complete story. Other Shark Tank bloggers take what is on the air at face value. The Shark Tank Hang will get the story behind the story.