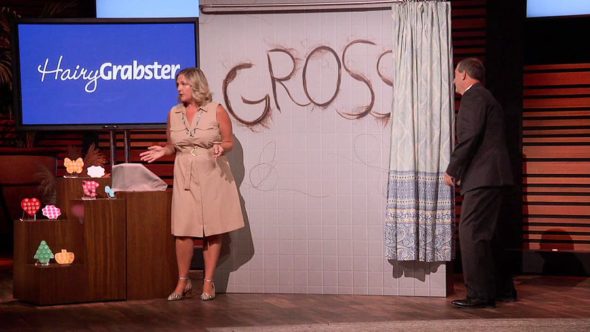 Andy and Patty Watne hope to tangle with a Shark for HairyGrabster, their solution to keeping hair out of shower drains, in Shark Tank episode 1219. It's the first product their family business, The Watne Group LLC, brought to market.  Patty formed the company as a product development company after working for over thirty years in flower sales and design. Andy is still a full time employee at a medical payment systems company.
The inspiration for HairyGrabster came from pulling hair out of a clogged shower drain. The clog caused their bathroom to flood. People lose anywhere from 50-100 hairs a day – many of them while shampooing in the shower. Those hairs get stuck to the walls and eventually make their way to the drain and frequently resulting in clogs. As Patty says, "It's GROSS!"
The product is fairly simple. It's a small, silicon pad that attaches to your shower wall with suction cups. There are little bristles on it that, when you swipe a hand with hair on it, grabs the hair and keeps it in place. When you're done showering, pluck the hairs off it and throw them in the trash. They only cost $9.99 on Amazon. The Watnes likely want a Shark's help getting broader distribution.
Company Information
Video

Posts about HairyGrabster on Shark Tank Blog
HairyGrabster Shark Tank Recap
Andy and Patty enter the Shark Tank seeking $75,000 for 20% of their company. Andy does an Alfred Hitchcock shower pitch and Patty screams when they see the hairy shower walls. They tell their background and explain how to clean it. They cost $1.30 and sell for $9.99. To date they only have $600 in sales and they don't have a profitable ROI on their Facebook ads. They want the money for marketing
Kevin says he invested in Drainwig and people throw it away and get a new one. Daymond says they have a lot of things to figure out; he's out. Barbara thinks it's not a big enough problem to solve; she's out. Kevin doesn't want it to make it to market due to his other investment; he's out. Lori thinks it's too niche; she's out. Mark says to try influencer marketing – it's not a fit for him; he's out.
HairyGrabster Shark Tank Update
The Shark Tank Blog constantly provides updates and follow-ups about entrepreneurs who have appeared on the Shark Tank TV show. In the immediate aftermath of their original air date, they sold over 2000 units. As of January, 2023, they are still in business. Reliable annual revenue figures are not available.