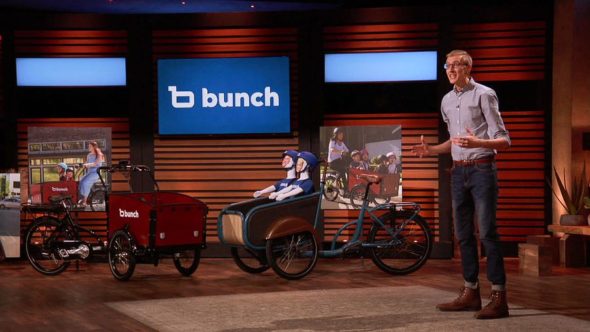 Aaron Powell introduces the Sharks to Bunch Bikes, his electrically powered cargo bikes, in Shark Tank episode 1219. Powell was introduced to cargo bikes on a trip to Denmark in 2016 and loved them immediately. He enjoyed riding his daughter around – just like the locals do. When he returned home, he set out to start a business selling cargo bikes a year later and Bunch was born.
The bikes, or "tadpole-trike," feature two front wheels that hold a larger cargo box that will seat up to four kids. They're great for going to the grocery store or running errands, too. The bikes are manufactured in Holland currently and they're considered one of the best value electric bikes on the market today.
There are several models to choose from. The Coupe holds two kids or dogs plus a rider and costs $5999. The Original holds four kids plus a week's worth of groceries and costs $2999.  A Preschooler model seats six kids and costs $4999. Finally, the  K9 model is designed with dogs in mind with a swing open door, dog bed and leash clips. The K9 costs $3199.
Electric bikes and cargo bikes are becoming very poplar in cities. Dominoes has over 600 electric bikes in service for urban pizza delivery. UPS, Amazon and DHL are testing cargo bike deliveries in various cities too. Since the onset of theCovid-19 pandemic, Powell's sales have more than doubled and he says he's struggling to keep up with demand. He likely wants a Shark's help boosting production.
Company Information
Video

Posts about Bunch on Shark Tank Blog
Bunch Bikes – Family Cargo Bikes
Bunch Shark Tank Recap
Aaron enters the Shark Tank seeking $250,000 for 10% of his business. He makes his pitch and demonstrates the bikes. It turns out he's the exclusive US distributor for the bikes, which causes some concern among the Sharks. They do like his sales though: $2.2 million projected for the year (2020).
All the Sharks except Barbara are out. Barbara offers $250,000 for 40%. Aaron counters with $100,000 plus a $150,000 loan for 15% and Barbara agrees.
Bunch Shark Tank Update
The Shark Tank Blog constantly provides updates and follow-ups about entrepreneurs who have appeared on the Shark Tank TV show. As of July, 2021, there is no evidence that this deal closed. It is only 4 months after the initial air date, so they may still be in due diligence. On an interesting note, the day after the original air date, Robert posted a picture of him riding a Bunch bike (he owns one) on the company Instagram page. The caption reads:
"I may not have been in the Tank this week – but I'm a big fan of @bunchbikes , so I called @barbaracorcoran up and said LET ME IN ON THIS DEAL ! ! The first time a deal has been done by a shark NOT on the panel !

I love Bunch Bikes , my kiddos love Bunch Bikes , even the dogs love them ! Great product , great team behind the vision. Excited for what's in store!"
The company fell a tad short of its revenue predictions for 2020 with total sales of just under $2 million, but Aaron expects 2021 sales to be around $4 million.
Bunch gets an update segment in episode 1305 where they'll showcase the new 12,000 square foot facility they moved into. In the update, they talk about how Robert got in on the deal. Both Robert and Barbara ride the bikes. Sales exploded after the original air date and sales went to $1.8 million. They did a deal with Lucca and Livvy, a beverage vending company, that resulted in a $2 million order. They'll use the bikes to sell their beverages at events. He tells his kids if you can dream it, you can do it.