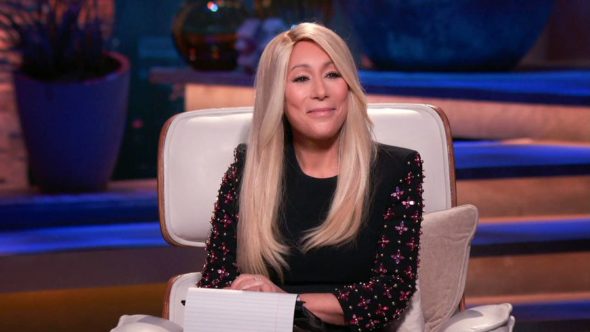 Mark, Kevin, Lori, Robert and Daymond are on the panel for episode 1218. Together they'll evaluate four new businesses seeking to partner with one of them.
Justin Wang seeks a deal for Larq, his innovatively designed water bottle that uses UV light to both clean itself and purify the water inside. Gabe and Cindy Trevizo seek to clean up in the Shark Tank with Suds2Go, a combination water bottle and foaming soap dispenser that's a portable hand washing system. Jason McKinney and Tyler Vorce give the Sharks a taste of Truffle Shuffle, a high end meal kit business with accompanying online cooking classes. Jill Visit pitches her Salad Sling, a fun, simple and far less cumbersome alternative to the salad spinner. Which business(es) get a deal in tonight's episode?
In the season 11 finale, when the world was in the midst of the first wave of the Covid-19 pandemic, Daniel Lubetzky invested $1 million for 25% of Yellow Leaf Hammocks. Entrepreneurs Joe Demin and Rachel Connors could not have foreseen the issues the pandemic would raise for their business. In tonight's update segment, we'll see how they weathered the storm.
The Sharks
---
Daymond John
Robert Herjavec
There are 22  Shark Tank Episodes for Season 12. This season features more appearances by "guest Sharks," including two returning guest Sharks: Alex Rodriguez and Daniel Lubetzky. In addition, two new guest Sharks will appear throughout season 12: Blake Mycoskie, founder of TOMS Shoes and MadeFor and Kendra Scott, founder of Kendra Scott, LLC, a fashion company she started in her spare bedroom in 2002 with $500. Casting is currently closed, but it never hurts to get a head start on season thirteen! If you would like to appear on the show, check out our Auditions and Casting information.
Episode 1218 – The Shark Investors and Entrepreneurs
The Shark Tank Episode 1218 entrepreneurs will make their best pitch to the panel of five Shark investors who will use their own money if they choose to invest. The Shark Investors negotiate on the spot without any previous information, which differs from typical negotiations between venture capital investors and entrepreneurial start-ups.
Companies pitching the Shark Investors must go through a rigorous due diligence process before an on-air deal is completed. Shark Tank Blog follow ups help you keep track of the companies that end up successful and the ones that don't complete their deal.
Thank you for reading SharkTankBlog, the number one site for Entrepreneurs, Investors and Fans. Our content updates multiple times day, giving you the latest information on Episode 1218, Season 12, and all other seasons and episodes.
Episode 1218 Press Release
Shark Tank: Episode 1218 (4/16)
"Episode 1218" – Two chefs from Oakland, California, had to make a major pivot when the pandemic nearly derailed their business based on a perishable, rare ingredient. A husband and wife duo from Gilbert, Arizona, take portability to a whole new level with their one-of-a-kind handwashing device. An entrepreneur from Austin, Texas, enters the Tank with her quick and easy approach to drying greens with her space-saving design, while an entrepreneur from Foster City, California, is thirsty for a good deal after presenting his high tech, self-cleaning water bottle on "Shark Tank," FRIDAY, APRIL 16 (8:00-9:01 p.m. EDT), on ABC. (TV-PG, L) Episodes can also be viewed the next day on demand and on Hulu.
In a "Shark Tank" update, season 11 entrepreneurs Rachel Connors and Joe Denim update us on their San Francisco, California-based, artisan hammock company with a social mission. Yellow Leaf Hammocks has flipped its traditional business model upside down in order to go directly to consumers during the global pandemic with some help from their investor Daniel Lubetzky.
The Sharks in this episode are Mark Cuban, Kevin O'Leary, Lori Greiner, Robert Herjavec and Daymond John.