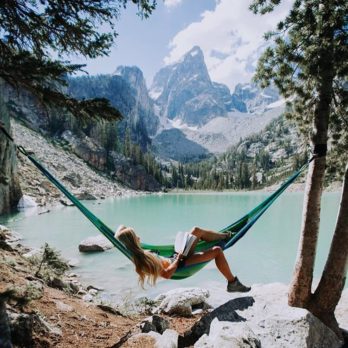 Joe Demin and Rachel Connors hope the Sharks like Yellow Leaf Hammocks, their eco-friendly, socially conscious hammocks, in Shark Tank episode 1122, the season 11 finale. The comfy, brightly colored hammocks and hammock chairs (for one) come in cotton rope for indoors and weather safe yarn for outdoors.
What makes these hammocks different than other hammocks is each one is unique. Demin discovered this particular style of hammock while vacationing in Thailand. Now, he has female members of the Mlabri Tribe, known as "the people of the yellow leaf," weave them for the business. This way, he cuts out the middleman and provides the tribeswomen with "ethical job creation is an empowering long-term solution to extreme poverty."
Demin started the company with a Kickstarter campaign way back in 2012 that raised $11,400. He just finished another Kickstarter for the Hammock Throne that raised a whopping $235,814 in June of 2019. The throne is a giant stand designed for Yellow Leaf Hammocks. For indoors or out, it swivels 360 degrees and is extremely strong. The Covid-19 pandemic has pushed shipping back on this though they hope to have the product for sale on their website by August 2020.
Yellow Leaf Hammocks cost $199 for the outdoor hammock which holds three people. The indoor hammock is also $199 and holds two people. Hammock chairs for indoors or out seat one and cost $179. The Hammock Throne is selling on a pre-sale basis for $1999 but Demin expects to sell them for $2499 after the pandemic winds down. They're available on the company website and Amazon. Demin and Connors hope to land a Shark to further diversify their company.
Company Information
Video

Posts about Yellow Leaf Hammocks on Shark Tank Blog
Yellowleaf Hammocks and the Hammock Throne
Yellow Leaf Hammocks Shark Tank Recap
Joe and Rachel enter seeking $400,000 for 7% of their business. They tell the story of their social enterprise and then get down to numbers. 2018 sales were $860,000 and they were on track to finish 2019 with $1.3 million. They're sales are 50% online and 50% strategic partners such as cruise lines that sell them on board.
Three Sharks decide to bid. Robert offers $400,000 for 15%. Lori offers $200,000 for 7% with a promise to fund all purchase orders. Daniel Lubetzky is all in offering $1 million for 33%. After a few counter offers, Lubetzky does the deal for $1 million for 25%.
Yellow Leaf Hammocks Shark Tank Update
The Shark Tank Blog constantly provides updates and follow-ups about entrepreneurs who have appeared on the Shark Tank TV show. This show was the season 11 finale and had its first rerun just two months after the original air date. We can assume they aren't selling many hammocks on cruise ships what with Covid -19, but they continue to sell on Amazon. A press release announcing the investment by Lubetzky indicates that the deal did close and the company is listed on his website.
The company gets an update segment in episode 1218 where we will hear how they weathered the Covid-19 pandemic. Obviously, the pandemic hurt their sales on cruise ships. In the update, we see how they shifted to more direct to consumer sales. As of August, 2022, their annual revenue is $6 million.
The company gets a second update segment in episode 1420. In the begining, Joe and Rachel's goal was to sell 2000 hammocks per year. Now, they're selling 4000 hammocks per month! In the 3 years before Shark Tank, they did $3.2 million in sales. In the three years since appearing, they've done $15.4 million in sales. They now employ over 400 weavers and have infused more than $2 million into their weaver community. Some of the weavers' children are even going to college. They made a simple way to lift people out of poverty.
They also introduced the Vista, a hammock stand that gives you the features of the Hammock Throne in a lightweight, portable package. Daniel says Yellowleaf Hammocks is the next big American lifestyle brand and he won't let Rachel and Joe rest until there's a hammock in every home in America. Daniel thinks they have a $100 million company on their hands.
Rachel and Joe visit the first Yellow Leaf Hammocks retail store on a Virgin Cruise Ship. The cruise line likes the company's purpose and that they empower women. There will be hammocks in every cabin on every ship, so over a million people a year can experience their hammocks. Joe says the retail shops on the Virgin line will help them reach $20 million in lifetime sales by the spring of 2023. The couple is overwhelmed by the impact Shark Tank has had on their business and the Thai community that weaves the hammocks. At the end of the update segment, the entire community screams "THANK YOU" to the camera.
*editor's note – one of my daughters gave us one of these hammocks for Christmas in 2021. It is high quality and very comfy!