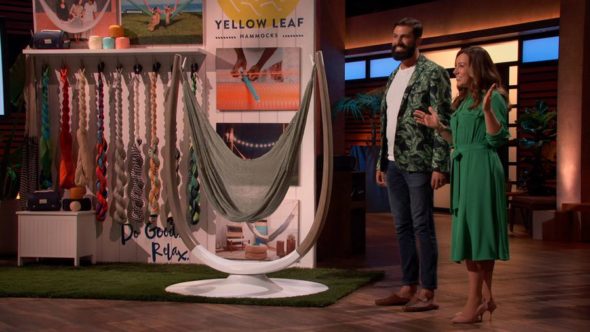 Joe Demin and Rachel Connors discovered the first Yellowleaf Hammocks while motorcycling in the hills of Thailand. They were in the tribal lands of the Mlabri Tribe, known as "the people of the yellow leaf," Now, some of those tribeswomen are employees of the business. Back in 2012, Demin did a Kickstarter that raised a little over $11,000 and he started the company with Rachel, now his wife.
Instead of contracting with some Chinese factory, he employees the Mlbari women to weave each and every hammock he sells. This gives them an honest wage that they'd be otherwise unable to get in that part of the country. It also gives Yellow Leaf Hammocks the cache that every hammock is unique. They have indoor styles, outdoor styles and hammocks for one to three people. They are very chic and have the distinction of being one of "Oprah's Favorite Things" in 2017.
The Hammock Throne
The Hammock Throne is the latest addition to Yellowleaf Hammocks' repertoire. As you can see in the picture above, it's a giant, U-shaped stand for the hammocks. Priced significantly higher than the $199 hammocks at $2499, it's a much bigger and more complicated business than the individual hammocks. He raised $235,000 on Kickstarter in 2019 to get this project rolling, but he hasn't shipped any. The Covid-19 pandemic delayed shipping until at least August 2020.
Yellowleaf Hammocks must have decent sales to have survived this long, so I'm betting he's looking for capital to expand this new addition to the "family." Will a Shark bid on this item?
My Take on Yellowleaf Hammocks
My first thought when I saw these is I WANT ONE! That throne looks boss! I would love one on my lanai. I wonder if they're made in a socially forward thinking way as the hammocks?  Either way, I can definitely see one in my future.
My parents had a hammock at their house for a while. It was one of those rope ones on a metal frame. It was comfy,  but dangerous. My son flipped out of it once and ended up with a bloody nose. The hammock went into the shed, then the dump after that. The throne looks sturdy, so nobody will be falling out of it anytime soon. I am IN!
Will Sharks Sit on this Throne?
I'm predicting a deal on everything for the final episode. I think Joe and Rachel will get a deal and I think Robert will be the one to start the bidding. There may be a war for this one too. I can see Robert going for it because he like online businesses.
Robert opens the bidding and then another Shark will jump in and undercut him, causing Robert to lower his bid. He's going to love this product and he'll want to be a partner.