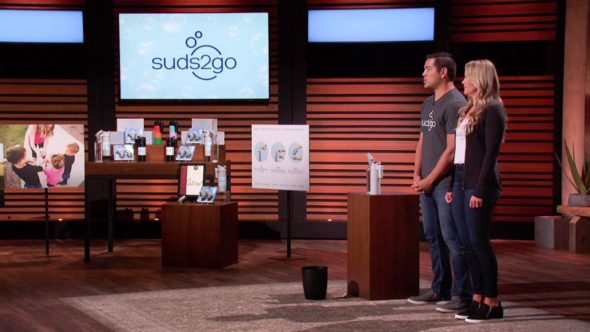 Gabe and Cindy Trevizo hope for a deal for Suds2Go, their portable handwashing system, in Shark Tank episode 1218. The parents of four young children lead an active, outdoor lifestyle. This puts them in situations where hands need washing and there's no soap or water. It came to a head one day when his then two year old daughter used a bathroom at an amusement park and there was no running water. Gabe wanted to find a solution to this problem, so he created Suds2Go.
Suds 2 Go is a combination water bottle and foaming soap dispenser. The soap dispenser is actually integrated into the lid of the water bottle. The water bottle has a restricted flow valve for rinsing hands and the soap and water never mix, so you can drink from the bottle too. When you're in a place with no soap and water, you're covered. Soap and water is actually far more effective than hand sanitizer because it not only removes bacteria, but dirt and grease too. The couple's sales soared during the Covid-19 pandemic as more people became aware of the need to wash hands frequently.
They got things going in December, 2018 with a successful Kickstarter campaign that raised $12,567. Product finally shipped a year later in December, 2019. Since then, they've been selling direct to consumer via their website. Their premium starter kit sells for $96 and includes two water bottles, two soap dispensers two bottles of foaming hand soap and two towels. Refill bottles of hand soap cost $4.99. For each bottle sold, the company donates to provide clean water to citizens of the Central African Republic. The couple likely wants a Shark's help with expanding their distribution.
Company Information
Video

Posts about Suds2Go on Shark Tank Blog
Suds 2 Go – Mobile Hand Washing Bottle
Suds2Go Shark Tank Recap
Gabe and Cindy enter the Shark Tank seeking $200,000 for 10% of their company. They give their presentation and the Sharks inspect their water bottles. They speak about their backgrounds and some hard times back in 2008 when Gabe lost his job. Robert says Shark Tank started in 2008 and is an inspiration. When they reveal they've done $392,000 in sales so far this year (2020), the Sharks are impressed.
Daymond offers $200,000 for 22.5%. Robert likes the couple and offers $200,000 for 15%. The couple takes Robert's offer.
Suds2Go Shark Tank Update
The Shark Tank Blog constantly provides updates and follow-ups about entrepreneurs who have appeared on the Shark Tank TV show. In the immediate aftermath of the original air date, they did over $300,000 in sales. The deal with Robert has not closed, but the first re-run of this episode in July, 2021, is only four months after the original air date, so they could still be negotiating. As of January, 2022, the deal with Robert has not closed.
As of August, 2022, they introduced refillable soap dispensers. In July, 2023, reliable revenue figures are unavailable. I will update this page accordingly.