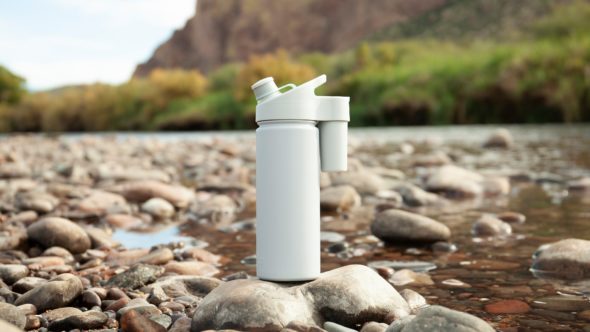 Gabe and Cindy Trevizo didn't invent Suds 2 Go because of the Covid-19 pandemic, but it really blew up their sales. They originally created the product – a water bottle with an attached soap dispenser – to clean up with their young kids while participating in outdoor activities. Hand sanitizer can't remove dirt and grease the way good old soap and water does, that's why they tote their invention wherever they go.
Gabe came up with the idea and took it to Kickstarter in December 2018. They started shipping a year later once they'd worked out the kinks with their manufacturer. Of course a few months later, the pandemic hit. With shortages of hand sanitizer, people were looking for other options and Suds2Go fit the bill.
The product itself is a 25-ounce stainless-steel water bottle that has a little soap pump attachment. Only foaming soap can be used in it. There are two spouts – one for drinking and one that trickles water out for hand washing. The dispenser holds enough soap for 60-70 pumps. The set up costs $36.99 and apparently they're selling like hotcakes. They just introduced disposable soap pump caps that fit any water bottle for $10.99 too. They probably need a Shark to help them with manufacturing,  distribution and keeping up with demand.
My Take on Suds 2 Go
I think this is a smart product, particularly for the times we live in. Soap has antibacterial and anti viral qualities like hand sanitizer, but the latter doesn't really work with grease and grime. It's just as easy to carry this product with you as it is to carry sanitizer too and I wouldn't expect a run on foaming soap.
I would have loved this when my kids were little. Getting dirty hands clean while out and about was always a challenge and this product solves that problem. Even though they say you can drink from it too, I'd definitely bring along a separate bottle for drinking. I am in.
Will Sharks Scrub Up a Deal?
This company must be getting a deal. They completely revamped their website recently and it has a very Sharky feel to it. I would not be surprised if there was a feeding frenzy for this product.
Any one of the Sharks would bring value here. Robert will like their direct to consumer approach as will Mark and Kevin. Lori will want to blow it up the way only she can and Daymond will probably want to license the technology. I would not be surprised to see five offers and/or a two Shark deal.