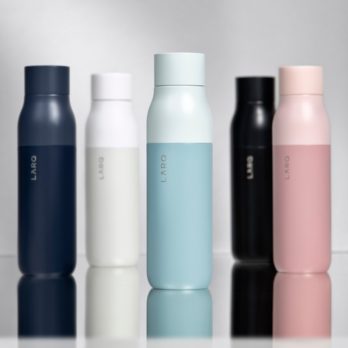 Justin Wang created the Larq Self Cleaning Water Bottle because he finds the use of plastic water bottles a huge pollution problem. Single use plastics are choking the earth. The problem with reusable water bottles is they harbor bacteria and germs. With Larq, the bottle not only cleans itself, it also purifies the water in the bottle.
The secret is what they call PureVis™ Technology. Essentially, there is a UV Light in the cap that kills all the bad stuff in both the bottle and the water. There are two water purification "settings." The first is about a minute for potable (tap) water, the second is a little over three minutes for non potable water – like from a stream. Last year, they introduced a pitcher with the same technology, but they haven't brought that to market yet.
Wang got the Larq Self Cleaning Water Bottle going in 2017 when he and his team raised over $.6 million in four crowdfunding campaigns. They raised an additional $15.7 million with several VC rounds too. At $94 a pop, it's not cheap, but they had a little over $7 million in sales in 2019 and expected that number to at least double in 2020. They likely want a Shark to help with their international expansion.
My Take on the Larq Self Cleaning Water Bottle
My initial reaction was the cost was too high. When you figure that it purifies too, it will completely replace bottled water. Unlike bottles with filters, the Larq keeps the bottle clean too. Other than buying a new UV light cap every 60,000 uses or so, it's the last time you'll have to buy bottled water or a water bottle. That would save you $7500 if you calculate how much thaat many bottles would cost. Plus, you aren't sending all that plastic into the waste stream. bottles
I am going to get one of these and the pitcher when it comes out. We tried a pitcher filter, but the filters were single use too and needed to be changed so often (our tap water is nasty in Florida) I didn't realize any savings. I wasnt convinced of the ecological benefits either. This bottle is a game changer. I am in.
Will Sharks Bottle Up an Investment?
There are several reasons I don't think this company leaves with a deal. First is they aren't the only company doing this. In addition to Larq, there's Crazy Cap, Mahaton and Noerden. I am sure there are or will be others too. The Sharks like companies that own their space, not ones that compete in it.
The second reason is the amount of venture debt they've incurred. When this happens, it's often the case that the shares are too diluted to give a Shark the kind of equity they want. The third reason is the company's social media. Most companies hype the heck out of a Shark Tank appearance leading up to show night. Larq made a tepid announcement the day before their segment aired. While love it and I think the Sharks will too, I don't think a deal gets done here.