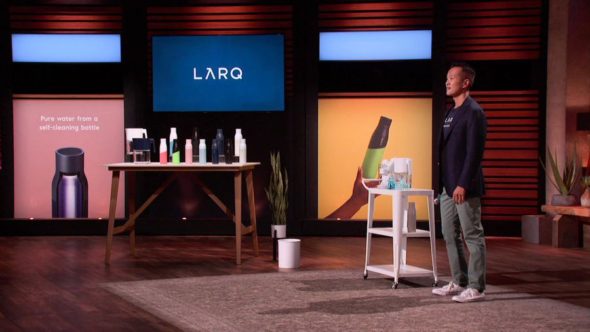 Justin Wang hopes the Sharks drink up and invest in Larq, his self cleaning and self purifying water battle, in Shark Tank episode 1218. Justin started the company in July, 2017 "to help people access pristine drinking water easily and sustainably." Like the rest of us, he was frustrated by the plethora of single use plastic water bottles. He wanted a solution that was not only sustainable, but easy to care for.
Larq was the solution. It's a stainless steel water bottle with a catch. It uses UV light to clean the bottle AND purify the water inside. It uses a PureVis™ Technology UV-C LED in the cap to purify the water. This is the same technology hospitals use to sanitize operating rooms.  The light lasts for about 100,000 uses and charges with a USB charger. A new bottle costs $94 and replacement caps are $60. The company donates a portion of each purchase to groups who are members of the 1% for the Planet network.
Justin got the business going with a successful Kickstarter campaign that raised $1,374,021 back in December, 2017 and started shipping products in July, 2018 and finished before the end of 2018. The company started a second Kickstarter that raised $771,917 in October, 2020 for their pitcher. They ran IndieGoGo campaigns for both the bottle and pitcher concurrent with the Kickstarters  and raised an additional $2,520,031. Larq went on to do over $7 million in sales in 2019 and they've raised a little over $15 million in venture capital. They likely want a Shark's help managing their international growth.
Company Information
Video

Posts about Larq on Shark Tank Blog
The Larq Self Cleaning Water Bottle
Larq Shark Tank Recap
Justin enters the Shark Tank seeking $500,000 for 1% of his company. The Sharks erupt into laughter at the valuation. He gives his pitch and introduces his bottle to the Sharks who have samples. Robert wants to know if he heard the valuation correctly and Justin confirms he did. Kevin congratulates Justin on having the highest valuation in Shark Tank history. Daymond reveals that he owns a couple of the bottles.
When you click the UV light, it bounces off the inside of the bottle. They have ten patents. In 2019, they did $5.5 million. In the last 12 months, they did $9 million and they plan on doing $14 million for the year (2020). They raised $6.7 million in January, 2020 at a $31 million valuation. The company has $6.5 million in the bank.
After all the chatter, Kevin offers $500,000 for 4%. Lori offers $500,000 for 5% and Robert offers $500,000 for 3% plus 2% advisory shares. Justin counters with an offer for all three Sharks to team up on: $1.5 million ($500,000 each) for 4.5% plus 1% advisory shares. Robert backs out and Lori and Kevin partner up to offer $1 million ($500,000 each) for 4% and Justin agrees.
Larq Shark Tank Update
The Shark Tank Blog constantly provides updates and follow-ups about entrepreneurs who have appeared on the Shark Tank TV show. Just a few weeks after taping, the company raised another $10 million. The deal with Lori and Kevin never closed. In September 2020, LARQ raised $11 million in Series A funding from Seventure and DCM to develop their pitcher. They pre-sold 20,000 pitchers and they are now in stock. As of July, 2021 they have $4 million in annual revenue. In November, 2021, they announced they will finish the year with $20 million in sales.
In October, 2022, the company partnered with Vison USA, a promotional products company. Vison USA will offer branded versions of Larq products to its customers. At this time, they project $30 million in revenue for 2022. As of February, 2023, it looks like they hit their 2022 revenue number. The company is currently valued at $50 million.