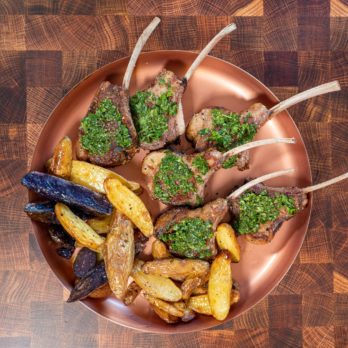 Jason McKinney and Tyler Vorce created TruffleShuffle when the Covid-19 pandemic hit. They originally formed the company to sell truffles to San Francisco Bay area restaurants. When the pandemic shut restaurants down, they were sitting on 20 pounds (about $20,000 worth) of truffles.  They had to do something, so they decided to make cook at home kits and do televised chef classes online.
With everyone stuck at home, more so in draconian California, the idea took off. They started in Jason and his wife, Sarah's, small apartment. Five months later, they had a ten thousand square foot facility with four production kitchens and the ability to make up to 10,000 meal kits per week. They now employ over 40 people, most of whom were refugees from the restaurant industry.
Kits run $99 each for two servings as a rule, but some are more – it depends on the ingredients. There are several ways to enjoy the TruffleShuffle experience. They have on demand classes, live events with celebrity guests, collaborative experiences with wineries and they'll even design a special private event. Also, for each meal kit sold, they donate a meal to Oakland area needy folks. The rapid growth of the company led to some glitches and they likely want a Shark's help with that.
My Take on TruffleShuffle
We've been getting Green Chef keto meal kits every three weeks or so as a treat. We get three scrumptious meals for 2 for about $80. My wife even cooks when we get the kits. Obviously TruffleShuffle is a tad pricier, but I am willing to try it as a treat. Paired with a nice bottle of wine, I'd view this as on par with going out to a nice restaurant.
The meals all look delicious. Most have truffles in there somewhere. Their "signature dish" is Truffle Risotto. The One that I am going to try is New York Strip Steak with Bearnaise Sauce. It's an on demand class, so I can get it whenever I want.
Will Sharks  Cook Up a Deal?
The Sharks will be impressed with the company's quick pivot and rapid growth. What they'll also recognize is this is a technology and logistics company as much as it is a food company. There are a lot of moving parts here.
As restaurants re-open, they'll carry on with selling truffles, but they basically invented a new business model. The best Sharks would be Robert or Mark as they are big into tech and good help with their systems. Mr. Wonderful is a wild card here and could bid (think royalty deal). I don't think Daymond or Lori will jump on this, but expect bids from the other three.