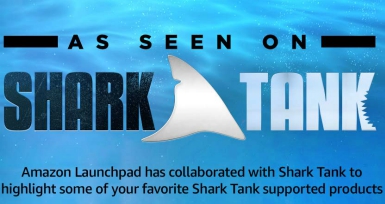 There are many Shark Tank Products on Amazon since Mark Cuban set up a his own store to sell his companies' products in 2016. In 2018, Amazon Launchpad opened a Shark Tank store as well. Users can toggle between companies by Shark investor there too.
Amazon accounted for a little over half of all online retail sales in 2020, so sellers are very keen to have their products listed there. With Amazon FBA, sellers ship bulk products to an Amazon facility and Amazon handles everything else. For a small business, this can save a ton of time and money on building a fulfillment infrastructure.
Why Buy Shark Tank Products on Amazon?
As a consumer, it's almost always better to buy Shark Tank Products from Amazon when a show originally airs. If a product is a hit, the business will be overwhelmed with orders and there could be delays. With Amazon, it's just another product going out the door. I can't tell you how many negative comments and emails I get about angry consumers who haven't received a product they ordered in a timely fashion.
99% of the time, it's not because the company is trying to scam people, it's because they're overwhelmed. A lot of times when an episode originally airs, businesses are still shipping out of their garage! Entrepreneurs who take advantage of Amazon FBA know the hassles of shipping. They may actually save money by letting Amazon fulfill their orders. Shark Tank entrepreneurs have told me that even when a show is rerunning on ABC or CNBC, there can be big jumps in sales.
Of course, not all Shark Tank businesses have a product that can be shipped (think food products, restaurants etc.), so you may not find them on Amazon. If you're tempted to buy a Shark Tank Product and you want a pain free experience, go to the Amazon Shark Tank Store. You won't be sorry.