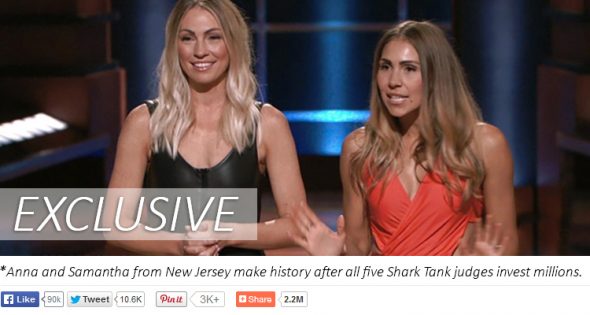 For the past year or so, I have been inundated with complaints about a Shark Tank skin care scam. Most of the complaints come from people who ordered the product and had their credit cards charged without authorization for as much as $109! The so-called "biggest deal in Shark Tank history" is a TOTAL SCAM. DO NOT FALL FOR IT!
Various products use the same ad copy. Some of the products include Skin Fresh MD, Suisse, Luxure, Lumidair, Yuva Forever, Dermafixa and others. There are literally hundreds of sights, using the same – or similar – ad copy touting the various products as "the greatest step forward in skin care history." They use a photo – like the one above – stating sisters "Anna and Samantha Martin won over the Shark Tank panel."
Don't believe it!
Shark Tank Skin Care Scam Uses Other Celebrity Endorsements
In addition to a "quote" from Barbara Corcoran endorsing the product, other celebrity "endorsements" from Ellen Degeneres, Oprah, Megan Mullally, Sandra Bullock and Eva Longoria appear on the sales page. There is even a fake page that uses a legitimate Shark Tank product – Glow Recipe – as a lead in to link to the scam page.
In addition to using fake endorsements, the aforementioned Anna and Samantha Martin never appeared on the show. The photo looks real, but people familiar with Photoshop know pictures are easily faked. I can't even place the faces, and I've watched EVERY EPISODE at least twice.
Beware Scammy Marketing Ploys
Whatever landing page you hit (there may even be an ad for this scam company on our mobile site as they keep marketing under different product names and different URLS), you ultimately land on a page touting a $4.95 "trial offer." What they don't tell you is they'll continuously charge your credit card and won't stop even after you ask them to (if you can even get them on the phone). Chances are, if you try to call the company, you won't get them on the line. According to Kyle Nardo of Nardo's Natural (season 3), "the scammers linked our customer service phone number to their sites."
Barbara Corcoran actually confronted one of the scammers and is suing him. A good account of that is found here. The bottom line is this: DON'T believe every ad that says a product was featured on Shark Tank, whether it's one of the Shark Tank skin care scam ads or any other. Always check The Shark Tank Blog. We only feature companies that really appeared on the show. A quick search in our search box will let you know if the company is legitimate or not.