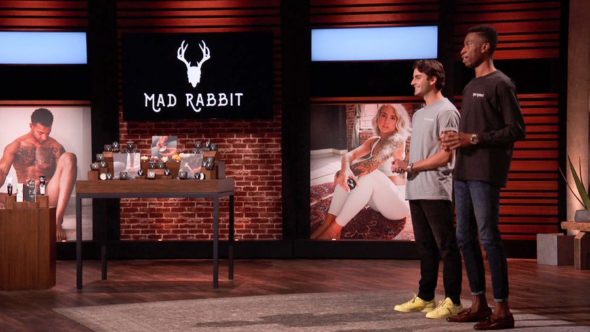 Miami University graduates Oliver Zak and Selom Agbitor introduce the Sharks to Mad Rabbit, their line of tattoo aftercare products, in Shark Tank episode 1219. The entrepreneurs met their freshman year and became fast friends. Both men had an interest in starting a business and, when Oliver got his first tattoo, he was surprised the tattoo artist recommended petroleum jelly to help it heal. That was the inspiration for Mad Rabbit.
Oliver envisioned a plant based balm and the two friends began experimenting with different formulas. They started the company in January, 2019, a few months before they graduated. Their first product was their Tattoo Balm. Instead of chemical ingredients, it's all natural. Shea butter, cocoa butter, beeswax, calendula, almond, lavender, cucumber and Frankincense make up the Tattoo Balm. Using it daily keeps your tattoos fresh looking and bright.
Their other products – a 30 SPF sunscreen to protect your tattoos and a soothing gel for new tattoos – are similarly composed with natural ingredients. They've made the company a leader in the tattoo aftercare market by building a community around  the brand and encouraging their customers to "share" their tattoos on  their blog and social media. The guys envision the company becoming a "lifestyle brand" as they grow and add new products. They probably want a Shark to help them execute their vision.
Company Information
Video

Posts about Mad Rabbit on Shark Tank Blog
Mad Rabbit Shark Tank Recap
Oliver and Selom enter the Shark Tank seeking $500,000 for 5% of their business.  The Sharks verbally balk at the valuation. They tell their story and give their pitch. Lori wants to know how it makes it more vibrant. Mark wants to know if it revitalizes old tattoos. They share their backstories, then they start talking numbers.
They have $300,000 in sales – last month. They've done $1.7 million so far this year (2020). The marketing is based on tattoo related content. The company has a subscription service with over 5000 subscribers. The cost of one tin is $2.78 and it retails for $19.99. Oliver says  there are about a dozen competitors but they are the only all natural option. Customer acquisition costs are $6-$7.
Their "secret sauce" is the community they built on Instagram (90,000 followers. Last month they spent $80,000 on marketing to make $300,000 in sales. They say they'll sell $3 million this year and they started with $300 each. Kevin offers $500,000 as debt at 9.75% for 5% equity. Barbara likes the guys, but she doesn't know what she can do to help them; she's out. Daymond says they are killing it and he doesn't know if he can add value; he's out. Mark offers $500,000 for 12%. They ask if Mark will work with Lori. Mark says no and they take his deal.
Mad Rabbit Shark Tank Update
The Shark Tank Blog constantly provides updates and follow-ups about entrepreneurs who have appeared on the Shark Tank TV show. The deal with Mark did close and the company appears on his website. In the immediate aftermath of the original air date, they were way backed up on orders, resulting in some angry customers, but they've since worked out the kinks. As of July, 2021, they are still in business with $3 million in annual revenue.
In January, 2022, the company became the exclusive tattoo aftercare brand of Inked, a tattoo lifestyle magazine and online store. The equity partnership is estimated to be worth $4-$5 million per year. In February, 2022, the company received another $4 million in funding from Mark Cuban, Acronym Venture Capital, Revolution's Rise of the Rest Seed Fund, LB Equity, Seamless Capital, NFL wide receiver Stefon Diggs and rappers Riff Raff and Yelawolf. The funds will be used to increase their product line and grow their retail footprint. 2021 revenue was $12 million. They're projecting over $20 million for 2022.
The company gets an update segment in episode 1404. In the update segment, they tell us about a deal they did with Urban Outfitters that put them in 150 stores in the USA and Canada. They're also in 200 tattoo parlors and their products are sold in over 100 countries worldwide. The product line now includes 8 products – they only had one when they appeared on Shark Tank. When they first appeared in the Tank, they had $3 million in sales. Since inking the deal with Mark, they did $14 million in sales. Mark says the guys are kicking ass and he talks about the partnership with Inked magazine. Selom says they started the company with $300 each and if they can do it anyone can. He says "if there's a will, there's a way to succeed."
Shark Tank Blog will update this page as more information becomes available.