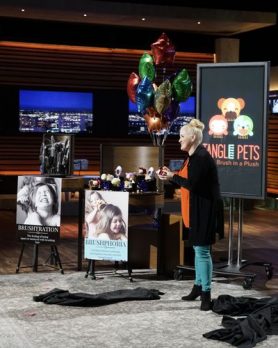 Liz Martin hopes to tangle with a Shark and get a deal for TanglePets, her line of de-tangling hair brushes for kids. She created the product by gluing a stuffed animal to a hairbrush. With three thick-haired daughters, Liz viewed hair brushing as a tough chore. Combining a de-tangling brush with a plush toy lightened things up a bit in her household.
Liz has an unusual story. She needed funds to start the business, so she went on the $100,000 Pyramid in the spring of 2016 for seed money. As a tribute to the show that gave her a start in business, each brush comes with a pyramid-shaped tag! Once she had inventory, she needed money for trade shows, so she turned to Kickstarter. Unfortunately, her Kickstarter campaign was unsuccessful.
Tanglepets is a simple product. It's a hairbrush designed to brush hair without tangling. The hook is each brush is attached to a plush animal. There are five Tangle Pets: a kitty, ladybug, lion, puppy, and turtle. Each one costs $12. While older girls may opt for a more traditional brush, younger girls seem to love them. Liz likely needs money for those trade shows and help with mass marketing. Will a Shark tangle with this business?
TanglePets Company Information
Video

Posts About TanglePets on Shark Tank Blog
Tangle Pets De-Tangling Hair Brushes
TanglePets Shark Tank Recap
Liz enters the Tank seeking $75,000 for 35 percent equity in her business. Mr. Wonderful isn't impressed; he thinks its just a regular brush with a stuffed animal glued to it. To date, she's only done $8000 in total sales, but she predicts she'll do over $100K this year.
Mark, Robert and Mr. Wonderful admire her energy, but they all go out. Barbara likes Liz too, but thinks she'd get worn out working with her. Lori likes both the quality of the brush and the attached toy. She offers the $75,000 for fifty percent of the business. Liz counters with 45% but Lori holds firm. After a little drama, Liz accepts!
TanglePets Shark Tank Update
The Shark Tank Blog constantly provides updates and follow-ups about entrepreneurs who have appeared on the Shark Tank TV show. After airing, Liz still didn't have product to sell. She offered a discount to people who ordered and "hung in there" with her and Lori. Things must be going well as Tanglepets has an update segment in episode 1006.
In the update, we find out Tanglepets is now in all Bed Bath and Beyond Stores. As of June, 2022, the products are readily available in Wal Mart and Target and in the company Amazon Store.