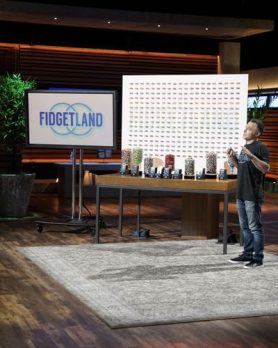 Jason Burns hopes to fidget his way to a deal with a Shark for Fidgetland, his line of fidget toys, in Shark Tank episode 906. Burns began creating his "fidgets" to help him cope with his own ADD. He constantly had something twirling in his hands to help him dispel excess energy. When he started making his own custom fidget toys, he began selling them on a website called Fidget Man.
People with kids who have ADHD, Autism, ASD, learning disabilities, anxiety, nail biting, hair twirling and other disorders began writing him saying what a big help the Fidgetland fidgets were. He even heard from adults who used them to quit smoking! What started as a way to calm himself actually became a business that helps people.
Fidget toys got a lot of press in 2017 due to the popularity of fidget spinners. Fidgetland fidgets are mostly groups of interlocking rings that you twirl through your fingers. The one exception is the "Chaney" fidget, which looks like a bike chain. At $12-$15 each, they're an inexpensive way to keep those hands busy when you feel like fidgeting. Burns likely wants a Shark's help getting broader distribution. Will a Shark join in on the fidget craze?
Fidgetland Company Information
Video

Posts About Fidgetland on Shark Tank Blog
Fidget Land Toys for Fidgety Folks
Fidgetland Shark Tank Recap
Jason enters seeking $50,000 for 10 percent of his company. The Sharks all like the toys, but Mr. Wonderful thought they were too small. The rest of the Sharks liked them and Robert offered $50,000 for 15%.
Barbara offers $50,000 for 20% and says she's the right partner. Barbara struggles with dyslexia, as does her son. She has a special place in her heart for things that help people with learning disabilities. This, she claims, makes her a better partner.
After some back and forth, Jason accepts Barbara's offer.
RESULT: Deal with Barbara for $50K for 20% equity.
Fidgetland Shark Tank Update
The Shark Tank Blog constantly provides updates and follow-ups about entrepreneurs who have appeared on the Shark Tank TV show. The deal with Barbara closed. In the immediate aftermath of the show (in the month of November, 2017), Burns claims sales of over 20,000 units.
Burns wants to partner with schools and colleges to offer his fidgets to students. He wants to develop more products, too. The company gets an update segment in episode 921, just a few short months after the first air date. In the update, he shares his battles with ADHD.
As of February, 2022, he also sells Arrow Jewelry on his site. The designs consist of Fidget inspired jewelry. Jason's wife, Stephanie plays a role in that business. As of August, 2022, he companies do about $1 million in annual revenue.