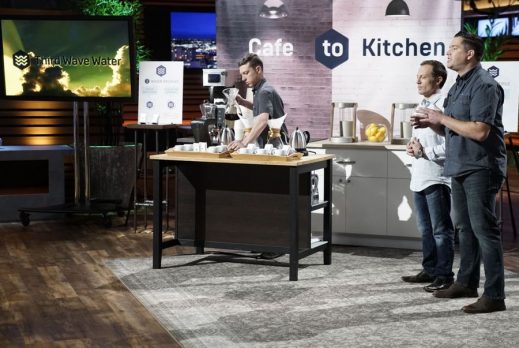 Charles Nick and Taylor Minor hope to ride the waves in the Tank when they pitch Third Wave Water in Shark Tank episode 906. Third Wave Water is a "mineralization capsule" to add to water to make coffee taste better. They recommend starting with reverse osmosis filtered or distilled water (which has no minerals). Adding one of the capsules to a gallon of water adds a "magical balance of calcium, magnesium and sodium" that makes coffee taste better.
Charles and Taylor both have tech backgrounds. They also owned coffee shops. Taylor perfected his "water blend" in his shop and Charles wanted to duplicate it. That's when they decided to create Third Wave Water capsules. They got their start with a successful Kickstarter campaign that raised $26,795 in January, 2017.
The capsules come in two flavors: "classic style" and "espresso style." A packet of 12 capsules that each treats one gallon of water costs $15. The five gallon capsules cost $25 for 12. It scrubs out to a bit less than ten cents per cup of coffee. Several online reviews scoffed at the idea of dehydrated water while others declared it brought "a small amount of joy" to coffee. What will the Sharks think of this water in their Tank?
Third Wave Water Company Information
Video

Posts about Third Wave Water on Shark Tank Blog
Water Mineralization for Good Coffee by Third Wave
Third Wave Water Shark Tank Recap
Charles and Taylor enter the Shark Tank seeking $100,000 for 10% of their business. They tell their story and give their pitch, then they give the Sharks two cups of coffee each. One cup has coffee made with tap water, the other made with their treated water. All the Sharks think the Third Wave coffee was better. $2015 sales were just $4000. In 2016, they did $66,000. This year (2017) they'll do $120,000.
Lori thought mixing the packets with distilled water was too complicated; she's out. Robert quickly follows for the same reason as Lori. Kevin believes there's a market for this, but it's too small; he's out. Mark thinks it's too niche; he's out. Barbara likes the concept and thinks she can market it. She offers $100,000 for 33.3% plus a $2 per unit royalty until she gets her money back. The guys counter with $100,000 for 25% plus a $1 royalty and Barbara agrees.
Third Wave Water Shark Tank Update
The Shark Tank Blog constantly provides updates and follow-ups about entrepreneurs who have appeared on the Shark Tank TV show. The deal with Barbara did not close, but they still have access to some of the people she uses with her entrepreneurs. They still have a good relationship and she's up on the header of the company website. The company saw the typical "Shark Tank Effect" spike in sales. In 2019, the company launched Tethys, a water filtration and mineralization system for coffee shops. They provide the system on a lease deal. Basically, it puts their water mineralization powder into a commercial grade reverse osmosis system. As of March, 2023, the company is still in operation and has annual revenue of $1 million.