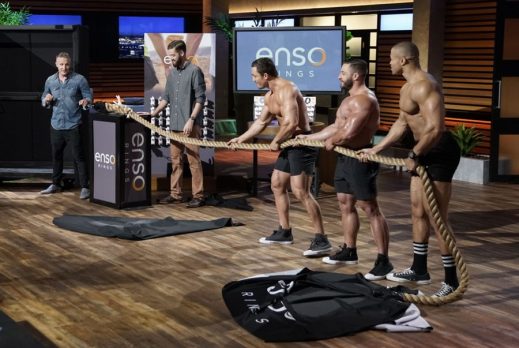 Brighton Jones and Aaron Daly pitch Enso Rings, their silicone ring business, in Shark Tank episode 906. Enso Rings are one of two "major" silicone ring makers in the marketplace and they're making strong inroads into that market. They started the business in late 2015 with a Kickstarter campaign that raised $15,324.
The silicone rings are soft and rubbery, yet fashionable. The main reason for using silicone is preventing ring avulsion – the ugly and potentially very disfiguring problem of metal rings getting stuck on something and ripping your finger off. Comedian Jimmy Fallon recently suffered a ring avulsion injury when his wedding band got caught on a countertop during a fall in his home. The Enso Ring guys claim there are "over 150,000 ring avulsion accidents per year in the U.S. alone."
While stylish, the rings are relatively inexpensive. They want people to go with silicone rings instead of traditional wedding bands for safety and practicality purposes. Truth be told, they are far safer than regular rings for people who work with their hands or enjoy any kind of sporting activities. At anywhere from $12-$25 per ring, they are FAR LESS expensive than your standard ring.
They guys used their Kickstarter funds for initial inventory, tooling, shipping, and engraving supplies. Based on the Kickstarter comments, it appears they delivered product with a minimum of problems. They likely need a Shark's help to increase inventory levels and with marketing. Will a Shark like the ring of this investment?
Enso Rings Company Information
Video

Posts about Enso Rings on Shark Tank Blog
Enso Rings Shark Tank Recap
Brighton and Aaron enter the Tank seeking $500,000 for 7.5% of their business. They give their pitch and explain ring avulsion. Next, they pull back a curtain revealing a body builder. He pulls on a rope attached to a ring on a fake hand and severely deforms it. Two more body builders come out and the three of them pull on a rope attached to an Enso Ring on Gary's hand – it breaks right off.
After the demonstration, they hand out samples to the Sharks. The rings cost between 70 cents and $4 to make and sell for $11.99 to $39.99. Over the past 18 months, they did $3.8 million in sales and they are projecting $5 million for next year (2108). They did $460,000 last month with 40% of that figure going to marketing.
Mark says they are a marketing company that found a product – he doesn't see it as a long term business; he's out. Lori thinks their sales are great, but she thinks there's too much competition; she's out. Barbara says fashion and fear are different selling points; she's out. Robert offers $500,000 for 20%. Kevin offers the $500,000 as a loan with a $2 per unit royalty until he recoups $1.5 million for 5% equity. Aaron counters Robert at 10%, Robert counters with 15%. Aaron counters with 12.5% but Robert holds firm. They take Robert's deal.
Enso Rings Shark Tank Update
The Shark Tank Blog constantly provides updates and follow-ups about entrepreneurs who have appeared on the Shark Tank TV show. The deal with Robert never closed. In the immediate aftermath of the original air date, they did $2 million in sales and were processing 500 orders a day for weeks. In the spring of 2019 they sold their 2 millionth ring. They sold rings in more than 80 countries. New products introduced were launched a birthstone line of rings and periodically released limited edition rings.  They hand make every ring in their Lehi, Utah warehouse.
In August, 2020 Enso Rings ranked No. 316 on the 2020 Inc. 5000 list of fastest-growing private companies with  three-year revenue growth of 1442.73%.
In 2021, the company produced a Disney Princess and a Star Wars line of rings. They also added bracelets to the line. As of August, 2022, the company is still humming along with a whopping $16 million in annual revenue. In September, 2022, the company introduced a Harry Potter series of rings and bracelets. They also partnered with Zales Jewelers to sell their rings online and in stores nationwide. As of March, 2023, the company is still humming along with a whopping $16 million in annual revenue.