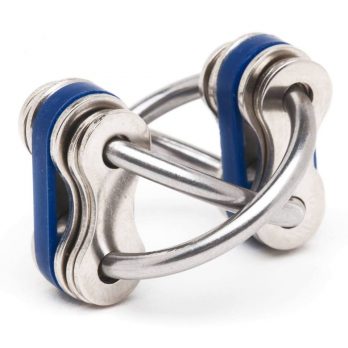 Fidget Land entrepreneur Jason Burns used to be known as "The Fidget Man." He's an adult with ADD who needed to keep his hands busy to help stay focussed. After spending years twirling objects in his hands, he decided to make a "fidget" that had style. That's when he became The Fidget Man.
Little did Jason know that fidget toys would burst on the scene in 2017. Fidget Spinners made news, and millions of dollars, when people of all ages bought the spinning toys to keeps nervous hands busy. Schools banned them and the kids kept buying them.
Fidget Land fidgets are different. They look more like a miniature metal puzzle than a fidget toy. They're all varying versions of a series of rings, rubber bands, and small chain links that twirl and spin. At $15 each, they cost a bit more than a top-quality fidget spinner, but they look cooler and manipulate in several different ways.
Fidget Land claims they help folks with ADD, ADHD, learning disabilities and more by burning off nervous energy. This allows people to calm themselves and focus. Some people use them to help quit smoking, too. There are many testimonials from customers who LOVE their fidgets from Fidget Land. The question is, will the Sharks love the business?
My Take on Fidget Land
When I was 12, my parents took a vacation to the Greek Isles. They brought my brother and I some Greek worry beads as a souvenir. Greek worry beads are the original fidget toy. While originally made as prayer beads, they became part of Greek culture for many of the same reasons Mr. Burns claims his fidgets are so appealing. Apparently, history is on his side.
My daughter has three or four fidget spinners. When I showed her the Fidget Land products, she said: "COOL! Can I get some?" She doesn't suffer from any of the aforementioned issues, but she's 13 and all 13 year olds need a distraction from time to time. Whether it's one of Burns' fidgets, a fidget spinner, or Greek worry beads, having something to do with yours hands is a handy thing. She may find one in her stocking this Christmas.
What will the Sharks do?
Sales make a big impact on the Sharks. By all I can see, Burns has a solid little business and does well selling his fidgets. Whether the Sharks think it can be a BIG business determines whether he gets a deal or not. Mr. Burns makes a big push for the benefits for people with ADD and other distracting traits and he has a pitch for educators to use his products in the classroom. Since his fidgets can be used quietly and discreetly, they're good for classrooms. They'd be a good impulse item in many retail environments, too.
The Sharks may see this as a fad business, given the rise and fall of the fidget spinner. If Burns has good sales numbers and a plan for broader distribution, he may garner some interest, but ultimately, I think the Sharks will call this a tchotchke and drop out one by one. Either way, the exposure should send him a lot of sales.