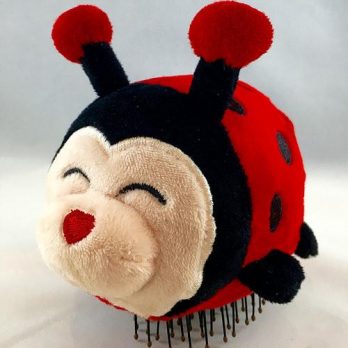 When Liz Martin wanted seed money for Tangle Pets, she didn't go the "traditional" route. Most folks borrow from friends and family, take out a business loan, or even max out their credit cards. Liz had another idea. She got on The $100,000 Pyramid, a game show on ABC. And SHE WON! Liz made it to the winner's circle and, with the help of actress Kathy Najimy, won $50,000. Check out the clip:
Liz got lucky on the Pyramid Game and, as a tribute to the good fortune that got her business started, she still has pyramid-shaped tags on all her TanglePets. Apparently, Liz needed more cash, because she set up a Kickstarter campaign in late 2016. That didn't go quite as well. She only raised $81 on a $2500 goal. This is why she's on Shark Tank in episode 906 this Sunday. She needs more cash.
Her business, Tangle Pets, is pretty simple and born out of the love for her daughter Gracie. Gracie has thick hair and Liz had to use a de-tangling brush. Since Gracie was still a toddler, Liz made the hair brushing chore a bit more fun by sticking a stuffed animal on it. That was the first Tangle Pet. Now, she manufactures Tangle Pets with one of five plush animals stuck to a de-tangling brush. At $15 apiece, they're cute and affordable. Little girls love them. Liz hopes the Sharks do too.
My Take on Tangle Pets
I have four daughters with very thick, wavy hair. Our bathrooms contain many hair brushes with different bristles, including the rounded kind found on Tangle Pets. I even have a spare hair brush in my glove compartment! If you have daughters, you know it's all about the hair.
My girls are much older than Liz's Gracie. When I showed the product to my youngest (13 years old), she said "that would be cool, when I was like five!" Parents spend money on hair brushes. it's a fact. Many will spend some of that money on a Tangle Pet for their kids or grandkids. It's a simple business with new customers born every day. We won't have any in our house, but a lot of other people with young kids will. I am IN.
Will the Sharks Tangle with this Business?
First off, Kevin is the first Shark out, likely with a self-deprecating comment about his coiffure. I can't see Mark or Robert in on this either. There will probably be some discussion about knock-offs, too. Barbara, who has other cutesy kid products in her Shark Tank portfolio, may bid.
The product is definitely in Lori's wheelhouse. It's moderately priced, has mass appeal, and is easily demonstrated. It would kill it on QVC. Liz likely wants Lori as a partner because Lori can sell millions of TanglePets in a short time. Liz definitely gets a deal. In the video promo for this episode, she's seen leaving the Tank yelling and pumping her fist – that's not the reaction of a failed pitch. Good luck with your Shark, Liz, whether it's Lori or not!