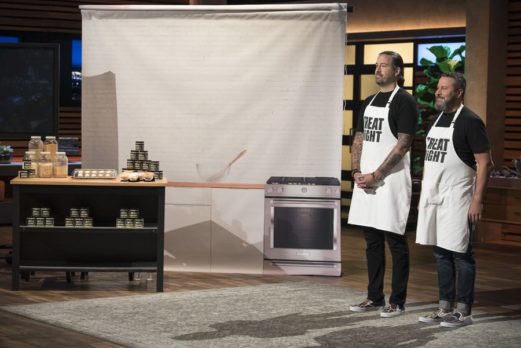 Justin Miller and Tom Simon share Zookies Cookies, their bake-at-home dog treats, in Shark Tank episode 1016. The guys are both serial entrepreneurs who pooled their resources and love for dogs to start the business in late 2017. They got their business up and running with a successful Kickstarter Campaign in early 2018 that raised $26,183 just 90 days after forming the company.
After Hurricane Harvey, Miller baked his own dog biscuits and sold them on his social media accounts. He told people he'd give all the profits ($1600) to disaster relief. That's when he realized he had the beginnings of a business. Miller, founder of WedPics and the El Taco Cartel, a Raleigh, NC taco cart, asked his friend to help him out. Mr. Simon, the founder of Source 3, which he sold to Facebook for an undisclosed amount, was eager to join.
Basically, the two men were on a mission to make treats with all natural, wholesome ingredients like peanut butter, organic coconut flour, organic pumpkin, whole grain oats, and organic sweet potatoes. Their friends and early customers referred to the treats as "critter crack." They sell pre-mixed dog treats that you add water to and bake. They call it "like Bisquik, but for your dog." The mixes, Peanut Butter Barker and Coco Mutt, sell for $11 a jar or three jars for $25. Each jar of mix comes with a dog-bone shaped cookie cutter.
After funding their Kickstarter, the guys moved into a larger commercial kitchen to increase production. They want a Shark's help with bigger, automated equipment for producing more snack mix. Will a Shark like these treats?
Zookies Cookies Company Information
Video

Posts about Zookies Cookies on Shark Tank Blog
Zookie's Cookies – Bisquick for Dogs
Zookies Cookies Shark Tank Recap
Justin and Tom enter seeking $50,000 for 20% of their business. As they hand out samples, they demonstrate people can eat the treats too! The Sharks take a bite, but spit them out. In nine months, they've done $40,000 in sales. It costs under $2 to make a jar and they sell it for $10.
The biggest objection is people won't take the time to bake treats for their dogs. Tom says the product is "giftable" and they'll have mid six figure sales by the end of the year. Lori goes out thinking it's too much of a novelty. Robert goes out next. Alli owns a piece of Healthy Spot, a health food store for pets and offers them $50,000 for 30%. Kevin wants them for his gifting portfolio, the "Something Wonderful Platform," and offers $50,000 for 33.3%. Mark goes out then Justin and Tim take Alli's offer, upsetting Mr. Wonderful.
Zookies Cookies Shark Tank Update
The Shark Tank Blog constantly provides updates and follow-ups about entrepreneurs who have appeared on the Shark Tank TV show. Zookie's Cookies finalized their deal with Alli Webb at the end of 2018, before their episode aired. When the episode aired, they got over 1000 orders in less than 24 hours! Since the show aired, they are selling on Amazon and they've unveiled a new label. They are also using a co-packer instead of making each jar themselves. Webb is also actively working to get them into pet retail stores.
In season 11, less than one year after making their deal with Webb, they get an update segment in episode 1103. In the update segment, the guys are at a tasting event at one of the Healthy Spot pet stores. They have their product in all 17 west coast stores.  In the five months since airing, they did $124,000  in sales. As of June, 2022, they are doing over $1 million a year in revenue.