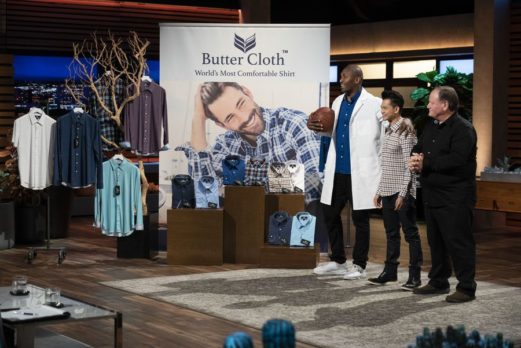 Metta World Peace (Ron Artest), Danh Tran and Gary Falkenberg seek a Shark to partner with them on Butter Cloth, the world's most comfortable shirt, in episode 1004. Mr. Peace legally changed his name in September, 2011 and he won an NBA championship in 2010 as a member of the Los Angeles Lakers. He joins Tran and Falkenberg as a "celebrity spokesperson" and investor.
Danh is the driving force behind Butter Cloth. He and his family immigrated to California from Viet Nam in 1994. Dan actually designed clothes for Barbie Dolls after taking some fashion classes at a community college. After graduating from the Otis College of Art and Design, he was head designer at Affliction Clothing for ten years.
He always hated dress shirts because they are stiff and scratchy. This led him to "invent" a dress shirt that felt more like a soft tee-shirt. Butter Cloth is a special blend of 100% long fiber cotton with a special manufacturing process that makes it super soft. As Danh says: "it looks like a Friday night, but feels like a Sunday morning."
NBA Investor
Metta World Peace joined the business as an investor in the fall of 2017. He brings some celebrity credibility to the table along with an understanding of eCommerce. To get up to speed in the digital marketing world, he studied digital analytics and marketing at UCLA after he stopped playing basketball and decided he wanted to get into businesses where he could monetize his personal brand. He like Butter Cloth because of the fit and comfort of the shirts. Peace even wore a shirt on the season finale of Celebrity Big Brother in early 2018. The terms of his investment haven't been disclosed, but they may surface in the Tank.
It's no coincidence that he appears when Charles Barkley is a guest Shark. Perhaps there is a synergy there. Even a guest Shark can bring juice to a brand.
Butter Cloth Company Information
Video

Posts about Butter Cloth on Shark Tank Blog
ButterCloth – The World's Most Comfortable Shirt
Butter Cloth Shark Tank Recap
Gary and Dan will pitch the panel of five Sharks on the business and its prospects for growth. They'll need to convince Mark Cuban, Kevin O'Leary, Lori Greiner, Robert Herjavec and Guest Shark Charles Barkley that the company is worthy of a Shark investment. A good business plan, good financials, and sales data will impress the Sharks, but they'll need to show them THEY are capable of running the company to "Shark standards." A full pitch re-cap on Butter Cloth will be available on Shark Tank Blog once this episode airs.
Butter Cloth Shark Tank Update
The Shark Tank Blog constantly provides updates and follow-ups about entrepreneurs who have appeared on the Shark Tank TV show. Once an episode has aired, we monitor the progress of the businesses featured, whether they receive funding or not and report on their progress. The Shark Tank Blog will follow-up on Butter Cloth & Gary Falkenberg and Danh Tran as more details become available.