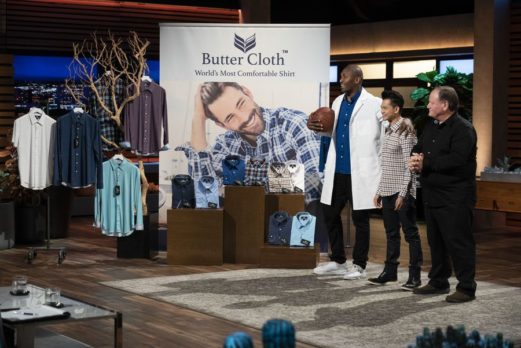 Metta World Peace (Ron Artest), Danh Tran and Gary Falkenberg seek a Shark to partner with them on Butter Cloth, the world's most comfortable shirt, in episode 1004. Mr. Peace legally changed his name in September, 2011 and he won an NBA championship in 2010 as a member of the Los Angeles Lakers. He joins Tran and Falkenberg as a "celebrity spokesperson" and investor.
Danh is the driving force behind Butter Cloth. He and his family immigrated to California from Viet Nam in 1994. Danh actually designed clothes for Barbie Dolls after taking some fashion classes at a community college. After graduating from the Otis College of Art and Design, he was head designer at Affliction Clothing for ten years.
He always hated dress shirts because they are stiff and scratchy. This led him to "invent" a dress shirt that felt more like a soft tee-shirt. Butter Cloth is a special blend of 100% long fiber cotton with a special manufacturing process that makes it super soft. As Danh says: "it looks like a Friday night, but feels like a Sunday morning."

NBA Investor
Metta World Peace joined the business as an investor in the fall of 2017. He brings some celebrity credibility to the table along with an understanding of eCommerce. To get up to speed in the digital marketing world, he studied digital analytics and marketing at UCLA after he stopped playing basketball and decided he wanted to get into businesses where he could monetize his personal brand. He liked ButterCloth because of the fit and comfort of the shirts. Peace even wore a shirt on the season finale of Celebrity Big Brother in early 2018. The terms of his investment haven't been disclosed, but they may surface in the Tank.
It's no coincidence that he appears when Charles Barkley is a guest Shark. Perhaps there is a synergy there. Even a guest Shark can bring juice to a brand.
Butter Cloth Company Information
Video

Posts about Butter Cloth on Shark Tank Blog
ButterCloth – The World's Most Comfortable Shirt
Butter Cloth Shark Tank Recap
Metta, Gary and Danh enter the Tank seeking $250,000 for 10% of ButterCloth. It's Dan's pitch for the most part. Metta explains his involvement with the company as does Gary, but Danh steals the show.
He tells the Sharks his immigrant story and gets a little choked up. Robert, also an immigrant, gets a bit misty, too. Danh admits he cashed in his 401K and sold his house to get ButterCloth started; he's ALL IN.
The company does all its marketing online via social media. Since 2017, they've done around $500,000 in sales. The biggest problem is customer acquisition, Currently, Danh and company spend about $40 to acquire a customer. They want a Shark's help with this.
The costs scare Kevin away, he's out. Mark thinks they should spend more on marketing, and he's out too. Lori thinks ButterCloth would compete with some of her other lines; citing conflict off interest, she goes out. Charles feels it's too risky and he bows out too.
Robert is the last Shark standing. He likes their online strategy and thinks he could help the brand. Robert offers $250,000 for 25%. Danh balks and counters, but Robert holds firm and Danh accepts.
Butter Cloth Shark Tank Update
The Shark Tank Blog constantly provides updates and follow-ups about entrepreneurs who have appeared on the Shark Tank TV show. The deal with Robert did close and ButterCloth has more celebrity endorsements. As typically happens, sales went through the roof on show night. Since airing less than a year ago, ButterCloth came out with a "Robert Herjavec Collection." They get an update segment in season 11, episode 1105 where they introduce the Robert collection.
In July, 2021, the company introduced underwear to the line. The month of August brought more good news. The company came out with shirts made of 29% mint fiber that actively cools you off while you wear it. They call the shirts Icy Cotton Polos. The shirts come in three solid colors: white, black, maroon and a navy microprint and gray striped version. The fabric is also available in their other products, including underwear. In September, 2021, they introduced Butter Cloth 10.0. This new fabric is 10X softer than their original fabric. It is available in Shirts and underwear too. They now have jackets, sweaters and socks in their line.
As of November, 2022, the company is doing quite well with $6 million in annual revenue.