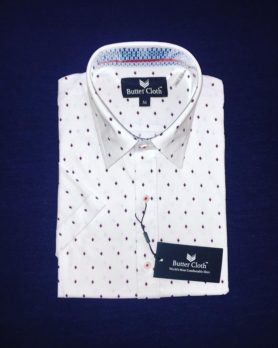 ButterCloth founder Danh Tran started designing his own clothes at age ten. He learned while working in his family's small tailor shop in Viet Nam as a child. In 1994, he came to the USA to go to school at the Otis College of Design. After he graduated, he spent the next 20 years as a fashion designer at Mattel, Howe, 7 for All Mankind, and Affliction Clothing. At Mattel, he actually designed Barbie's clothes!
Tran, along with business partners Metta World Peace and Gary Falkenberg, pitches his own fashion line, Butter Cloth, in Shark Tank episode 1004. Danh wanted a comfortable dress shirt because he didn't like the stiffness of traditional dress shirts. Peace (formerly Ron Artest) is a former NBA player who invested in the firm after wearing the shirts on Celebrity Big Brother. The name ButterCloth comes from the soft, buttery feel of the shirts. As they say on the website: "it feels like your favorite t-shirt, yet looks like a sophisticated casual dress shirt."
The secret is in the fabric. The whole time Danh worked as a fashion designer, he experimented with different kinds of cotton. He settled on 100% natural, sustainable, long fiber cotton for his shirts. It turns out the type of cotton does make a difference. Some cotton species have shorter fibers, others have longer fibers; some even have extra-long fibers. Longer fiber cottons fray less, pill less, wrinkle less, and even fade less than fabrics made with their short-fiber counterparts. Long fiber cotton is softer, too. That's why Danh uses it exclusively in all his shirts.
Softness doesn't come cheap at ButterCloth. Shirts will set you back $108 or $118. They come in either long or short sleeve; all are button down shirts. There's a wide variety of colors and patterns and sizes range from small to 3XL. The business is young – it started in 2017 – and Mr. Peace is a relatively new partner. They likely want a Shark for the publicity and for help bringing down production costs. Will one of the Sharks see this as a good fit?
My Take On ButterCloth
I usually don't wear dress shirts these days. My wardrobe is mostly tee shirts. When I do "dress up" to go out, i either wear a "dressy" tee shirt or a polo shirt. The only time I wear a button down shirt is when I wear a suit and that's at weddings or funerals. When I used to wear suits every day (gosh that seems like a long time ago), I would have liked to have a couple of these.
The shirts look good. If they're as comfy as they say, they'll be popular. I think the price is on the high side, I'd like to see these under a hundred bucks apiece. Preferably south of eighty bucks. Long fiber cotton is more expensive to use in clothes, but is it that much more? Since I'm not big on dress shirts, I certainly wouldn't object to wearing one if I got one as a gift, but I wouldn't go out and buy one now.
Will The Sharks See a Good Fit?
I'm sure it's no coincidence that Metta World Peace appears on the same episode as guest Shark Charles Barkley. The two never faced each other on the basketball court as Barkley retired the same year Peace came into the league. The two did play together a bit in Chicago at Hoops the Gym, a gym where Michael Jordan worked out and had regular pick-up games with pro basketball players in the off season. Peace did criticize Barkley during the 2013 season. The Lakers were playing the Spurs and Barkley, who was an announcer for TNT Network, called the Lakers an "old team" on the air. Peace fired back at him on Twitter saying, in three separate Tweets:
The Spurs are older and still getting it done. Its all about chemistry. Michael Jordan was 36 during his last title run.

Charles Barkley never won so it is hard for him to understand what it takes to win.

I actually like Charles Barkley , but I had to respond to his statement only because he called my team old rags or something. Kinda funny
Whether any of the NBA past helps or hinders Butter Cloth remains to be seen. Other Sharks may be interested if the deal is good. Robert has had a lot of success with online direct sales of clothing items, so he could bid. Mark isn't much of a clothes horse, but the relaxed look and feel of the shirts might interest him. He might also like the cross promotional opportunities with the NBA. Kevin seems to bid a lot so far this season, but many of his offers are unpalatable. This isn't a Lori style product so I don't think she bids. That leaves Barkley. I don't think he does a deal though. The last thing Butter Cloth needs is two arrogant NBA players on their Board of Directors.